Discover more from Learning by Proxy with Vivek Srinivasan
For those who are curious about the things happening around the world. Living at the Intersection of Politics, Business, Technology and Economics.
Learning by Proxy | Business of Politics and Politics of Business
It is increasingly becoming hard to discern where business ends and politics begins
Every Saturday, I publish this series called "Learning by Proxy". It is a capsule of some of the stuff that I found interesting over the week along with some context to it. I hope you enjoy it.
Follow Up
It turns out the Indian and Chinese forces have been brawling at the border since September 2019 when the government decided to convert the Ladakh into a Union Territory. The current situation was just an escalation of the troubles that had been boiling over for a while. So - The government has kept this issue concealed from the people because they would not have wanted to be blamed for fomenting it.
In the past two months, there have been at least three clashes between Indian and Chinese soldiers in the Pangong Tso area. As seen in satellite images, the Chinese side has constructed pillboxes, shelters, breast-walls and bunkers at Finger 4, both on the bank and the ridge, where they have deployed troops in large numbers.

Source: Indian Express
Politics
Politics of Business
You know how companies owned by the Indian government, which have created an entire category, end up in a heap of losses. You need to look no further than aviation to see the shining example. Air India (né Tata Airlines) created the airline business in India. After the economy was opened up in 1990, many private airlines started to appear. The government, in its quest to ensure that cities other than metropolitans develop, created a rule forcing airlines to take up unprofitable routes to smaller cities and state capitals. Air India is a loss-making mess because it gets a disproportionate share of these routes.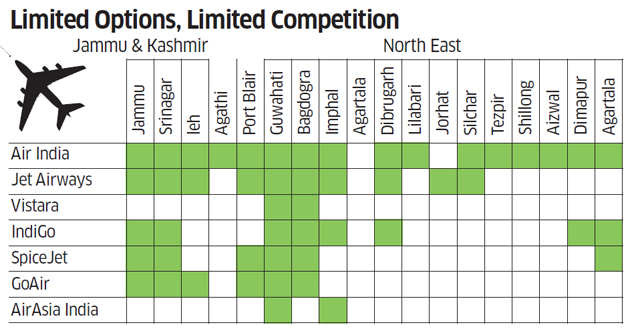 Source: ET
Something similar is afoot with the telecom sector. When a company takes 50% of the market share in a country like India, it often comes with a fair amount of support. It is unprecedented in world history for a 50-year-old industry to be shattered by a new entrant in 5 years. Now, when the government employees themselves start pointing it out.
Employees of state-owned telco Bharat Sanchar Nigam Limited (BSNL) feel that the central government is favouring Mukesh Ambani-owned Reliance Jio in awarding state-funded projects to it, and denying opportunities to other players by creating an uneven playing field.

Jio was recently allocated INR 50K Cr worth government contract under the Universal Service Obligation Fund (USOF) to deploy 54 mobile towers in Ladakh's rural areas. Moreover, impending restrictions on BSNL to extend telecom connectivity in the so-called left-wing extremism (LWE) affected villages are also denting the state-run telco's already frail revenue numbers.

Source: Inc42
Let me put that in context - Jio Platforms has raised ONLY twice that amount through all of the fundraisings that it has undertaken in the last 3 months. 
Good Old Fashioned Regime Change
When you think regime change, you think CIA. Americans have been great players of this game. Having said that, others have also learnt a thing or two along the way. Chinese aggression against India is well known. In one of my previous editions, I had mentioned the dire circumstances that Pakistan is in. This leaves other neighbours that can be encouraged to stew trouble. Of all countries, Nepal decided to change its map and declare Indian territory as a part of Nepal. Now, India seems to be creating trouble for the leadership of Nepal. The PM is Nepal has been asked to put up or shut up.
Prachanda said at the outset that Oli's allegation against India was wrong. "Not India, it is me who is demanding your resignation. You must furnish proof of such irresponsible remarks," Dahal is believed to have said.

Two days after Nepal Prime Minister K P Sharma Oli claimed that India was trying to topple his government with support from some politicians at home, party leaders, including three former prime ministers, Tuesday asked him to prove his allegations or quit.

Source: Indian Express
Economics
Economic War
There has been a call to boycott Chinese businesses and Chinese products for the past couple of weeks since the border clashes took place. At the same time, a lot of ink has been spilt trying to argue how impossible it would be to disengage economically from China. Further, it would be Indian manufacturers and Indian consumers who would be hurt by such moves. In the meantime, the Indian government has been putting its greatest weapon to work - Its bureaucracy. Chinese shipments have been delayed at the port of entry for "checking". The Chinese have been returning the favour. This has caused a lot of trouble to both exporters as well as manufacturers in India. The next step seems to be apps that generate little to no revenue from India.
TikTok has been banned in India. The IT ministry has banned 59 Chinese-owned applications, including TikTok, ShareIt, UC Browser, Likee, WeChat, and Bigo Live. The Ministry stated they were "prejudicial to sovereignty and integrity of India, defence of India, the security of the state and public order."

Source: Indian Express
Supply Chain
Over the last 30 years slowly and steadily more and more of the manufacturing base shifted to China. First, it was due to the lower cost. Off late it has been only about convenience. China has been behaving badly using the Pandemic as a distraction to push its nationalistic agenda. From the South China Sea, Hong Kong and even up to India the country has been pushing to expand. 
There is no other way to hurt them but economically. The military engagement will not end well for anyone involved. But shifting supply chains is a decades-long process. The biggest risk is chip manufacturing which is necessary not only for the phone in your hand but also for defence applications. TSMC one of the largest contract manufacturers of silicon set up a plant recently in Arizona with federal funding. It can produce as many chips in a month as their plants in China can in a day!
China's rising costs had companies looking to broaden their sourcing well before the trade war or coronavirus, but those events are increasing the urgency. In a recent survey of 260 global supply chain leaders across different industries and regions, research and advisory firm Gartner found 33% had already moved their sourcing or manufacturing out of China or planned to do so within the next three years.

Source: Quartz
Business
Under Pressure
Facebook has been under pressure ever since Twitter flagged the Trump tweet on mail-in ballots. The Chairman of the Board, Peter Thiel; whose data company Palantir played a role in the Trump victory, was one of the prominent supported of Candidate Trump. It came as little surprise that Facebook was willing to look the other way. But when your revenues streams get threatened, you cannot continue to look the other way.
Facebook has said that it will flag all "newsworthy" posts from politicians that break its rules, including those from President Donald Trump.

Separately, Facebook's stock dropped more than 8 per cent, erasing roughly USD 50 billion from its market valuation, after the European company behind brands such as Ben & Jerry's and Dove announced it would boycott Facebook ads through the end of the year over the amount of hate speech and divisive rhetoric on its platform. Later in the day, Coca-Cola also announced it joined the boycott for at least 30 days.

Source: News18
Some have argued that the USD 10 Million per month or so that most of these companies spent on Facebook was a drop in the bucket. But come to think of it - USD 10 Million across a year is USD 120 Million, and 10 such clients backing out would mean a loss of a billion dollars in revenue. Anybody else wants to lose a Billion dollars in revenue during this economy?
How does the medicine taste?
Dear Chinese Tech Company, for years your government protected you. They pretended to be extending a level playing field to all but they really were not. They made life so difficult that behemoths like Google and Amazon had to call it quits and leave the country. Agreed, it was mutually beneficial. China needed you guys to win so that a local company could be beaten into submission when it came time to censor. How does it feel to be fed the same medicine by another? Hurts?
DTH Dying with Cinema
OTT is going to be the undoubted winner of Lockdown 2020. Cinemas have been shuttered and by the looks of it, are going to have to wait for a long long time before things return to business as usual. On the other hand, DTH companies are also having a hard time. In India during 2019, DTH lost 2 Million subscribers. With the glut of streaming services who wants DTH anymore?
India lost 2 Mn direct-to-home (DTH) television subscribers in 2019, findings from the Indian Telecom Services Performance Indicator Report October-December 2019 published by the Telecom Regulatory Authority of India (TRAI) revealed. The segment ended the year with 69.98 Mn subscribers, down from 72.44 Mn in March the same year. 

Source: Inc42
Technology / Science
Zoox
A few years ago, being pressured about Uber drivers not being given the same benefits as an employee, founder and CEO Travis Kalanick pushed back. He said anyway, they will all be replaced by self-driving cars and caused a slight panic amongst the drivers. The firing of Travis, a bad IPO and several dozen lawsuits later, Uber is nowhere close to bringing self-driving cars to the roads. 
So it came as quite a surprise that Amazon went ahead and acquired a self-driving car company. Amazon's logistics needs to deliver in hours or days not minutes and hence self-drive would not be valuable to Amazon as much as it would to a cab company or food delivery company. Google, Tesla and a few dozen other companies have been pursuing self-drive. Apple is rumoured to be testing something of the sort as well! Remains to be seen what road Amazon takes.
The e-commerce giant said it had agreed to acquire Bay Area-based autonomous vehicle company Zoox, a deal reportedly worth more than $1 billion. (Amazon did not respond to questions.) Since its founding in 2014, Zoox has been known for its technical chops, its secretiveness, and its sky-high ambition.[…]

In 2018, it showed off its first prototype vehicles, which look like sensor-laden golf carts on steroids. The company has also been testing its software on more conventional-looking Toyota Highlanders in San Francisco, where it is learning to handle chaotic city streets.

Source: Wired
Brain
When you see you are not really seeing. Your brain in interpreting the electrical signals being generated by your eyes upon being subjected to light. The same is true of almost every organ. Therefore there is almost no objective reality in the world. It is all subject to how your brain chooses to interpret it. This was highlighted by the 'Yanni' / 'Laurel' sound recording a few years ago, where, part of the people heard one thing while the other another. Also, perhaps why some people like classical music while other rock. 
Instead of presenting his lab animals with real chemicals, he went straight into their brains. Last week, Chong and his colleagues published a study in the journal Science showing that they'd worked out some of the details of just how the olfactory bulb represents odours—by making mice smell scents that don't actually exist in the real world.

Source: Wired
Misc
This should probably not come under Miscellaneous but the other sections are covered. 
China is increasingly being isolated. Almost no country can eradicate its dependence on China for the moment but all attempts are being made. Further, there is also a push to align against China. 
China is livid after the US stepped in on Wednesday evening to delay a draft press statement condemning the terrorist attack at the Karachi Stock Exchange at the UN Security Council. 

The US was the second country after Germany to delay the statement, both silent expressions of solidarity with New Delhi, after the Pakistan foreign minister Shah Mehmood Qureshi and later PM Imran Khan blamed India for the attack. 

Source: Quartz
How many enemies can you make before your luck runs out?
Cash Free India
I am very proud of the fact that when it comes to transaction protocols, India has some of the best and most secure protocols. 4 years ago, NPCI launched the UPI which made it really easy for anybody to make microtransactions right from their bank accounts. This further resulted in greater penetration of banking and online transactions. 
India has been a cash-heavy country but the demonetisation coupled with the introduction of several of these technologies has changed the way things work in the country. UPI hit almost 2 Billion transactions last month. This is significant because the economy is busy taking a dump in the toilet and this number reflects the greater dependence on online transactions.
The National Payments Corporation Of India (NPCI) said that the Unified Payments Interface (UPI) recorded 1.98 Bn transactions worth INR 2,06,950 Cr in June 2020.

Source: Inc42
Signing off…