Discover more from Learning by Proxy with Vivek Srinivasan
For those who are curious about the things happening around the world. Living at the Intersection of Politics, Business, Technology and Economics.
Learning by Proxy | Visa - Jio - COVID after effects
America is waging a Visa war and hurting itself; Jio raises some more, but when has money alone won a battle; COVID is resulting is strange after-effects!
Every Saturday, I publish this series called Learning by Proxy. It is a capsule of some of the stuff that I found interesting over the week along with some context to it. I hope you enjoy it.
Follow Up
Visa Ban
The USA has been busy disallowing Visa to several categories of people. Last week it hit students with a visa ban. Since the students would be required to attend classes online, why should they have to stay in the US? The universities sued the government from Boston to San Diego. The visa was the only thing that was going to get the students to pay tuition. Without it, the Universities would suffer revenue erosion!
The U-turn by the Trump administration comes following a nationwide outrage against its July 6 order and a series of lawsuits filed by a large number of educational institutions, led by the prestigious Harvard University and Massachusetts Institute of Technology (MIT), seeking a permanent injunctive relief to bar the Department of Homeland Security (DHS) and the US Immigration and Customs Enforcement (ICE) from enforcing the federal guidelines barring international students attending colleges and universities offering only online courses from staying in the country.

Source: Indian Express
After H1B and students, the next in line are members of the Communist Party of China. This is being considered as a retaliation to the change in the law in Hong Kong. 
The Trump administration is considering a sweeping ban on travel to the United States by members of the Chinese Communist Party and their families, according to people familiar with the proposal, a move that would almost certainly prompt retaliation against Americans seeking to enter or remain in China and exacerbate tensions between the two nations.

Source: New York Times
The share of non-citizens in the US has already fallen to new lows.
Just 6.2% of the people in households surveyed for the US's monthly employment survey responded they were not US citizens in June 2020. This is the lowest share of non-citizens since 2000, and down from 6.8% in February.

Source: Quartz
All this while their passport has fallen out of favour with all but a few. These are the only countries to which a person bearing an American passport can travel to Visa-Free. Also, most of Europe would not allow them even if they had a Visa.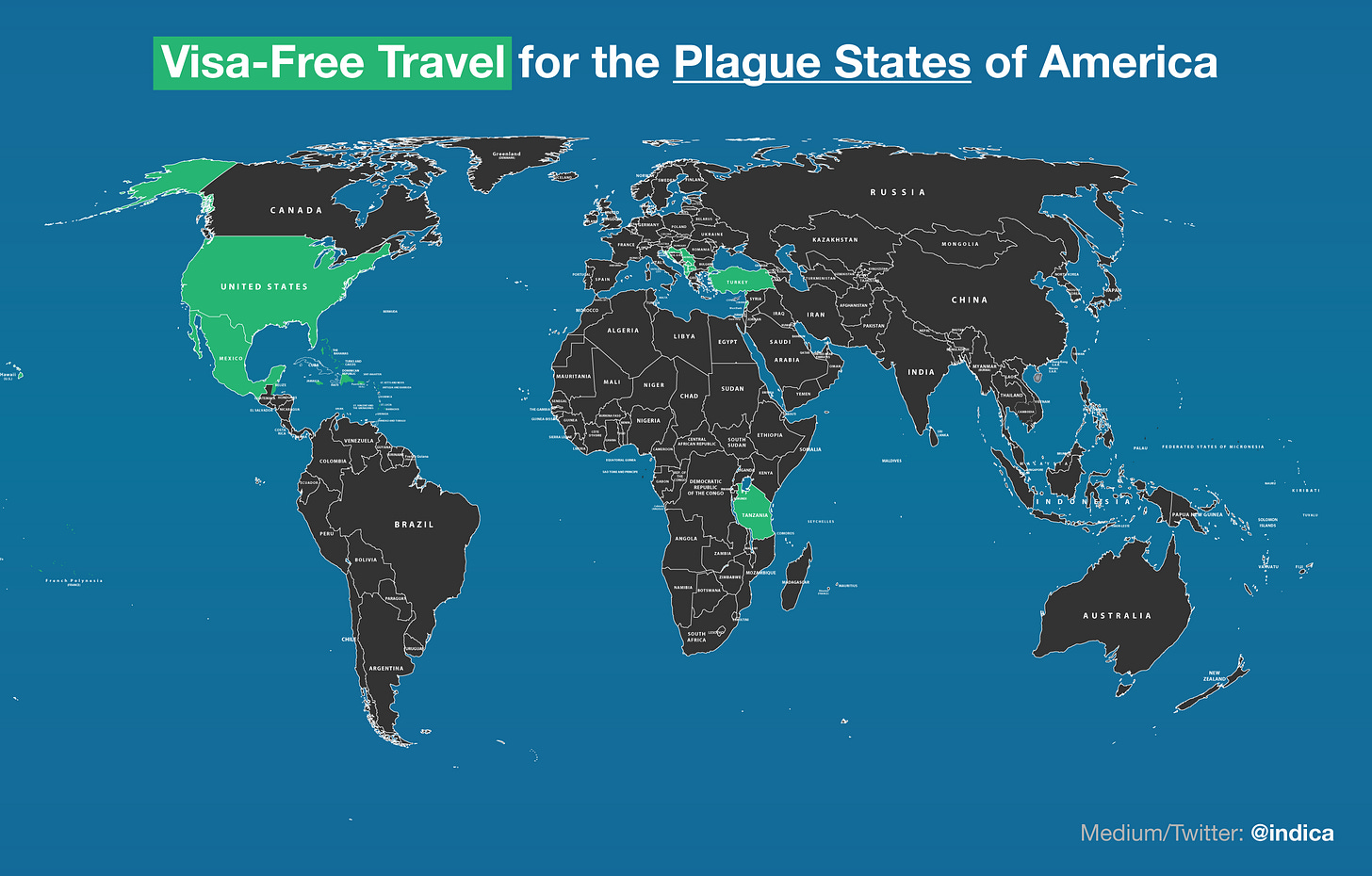 ---
Jio Again
Reliance has managed to raise over 20 Billion dollars in the past couple of months. This culminated in the AGM where the Google - USD 4 Billion investment - was also announced.
During the Google For India event for 2020, Google and Alphabet CEO Sundar Pichai announced that the company will invest INR 75,000 Cr or approximately $10 Bn under the Google For India Digitization Fund for the Indian tech and startup ecosystem. The fund will be invested in businesses, social impact projects and towards supporting the Indian government's digitisation efforts over the next 5-7 years.

Source: Inc42
This release by Google was an afterthought. They just wanted to put a spin that made it seem larger than just a Jio Investment. But that was all it was. The rest of the 6 Billion is probably expenses that will be undertaken either way over the next 5 - 7 years.
Have you seen a successful all-star team? Jio now counts Facebook, Google and Microsoft as shareholders. 
The company also announced a whole bevvy of products and services during their online AGM.
At Reliance's Annual General Meet 2020 the company announced Google will invest Rs 33,737 cr for a 7.7% stake in Jio Platforms. Jio also revealed that the company is developing Jio TV Plus, Jio Glass, and more. The company also announced details on JioMart and Jio 5G solution.

Source: Indian Express
While it is one thing to build a product, it is another thing to be able to sell it and build an eco-system around it. While all this investment is in the anticipation that funding means success, it will not be that easy. Even with Tik Tok banned in India, the aspiring apps are struggling to dominate the space. It takes a lot more than just making something to succeed. Google itself is no stranger to the concept. They rushed out Google Plus to compete with Facebook and promoted it on the most visited page on the internet and still failed. 
This is not over.
---
ARMing Softbank
In the 1980s a British company called Acorn along with VLSI and Apple created a chip design company called ARM. ARM stood for Advanced RISC Machines. RISC stands for Reduced Instruction Set Computer. This was conceived as a way of enabling low powered devices. Intel, by comparison, was offering CISC - Complex Instruction Set Computers which are more power-hungry. When Steve Jobs came back to Apple in 1997, he sold ARM and used the money to save the company. When he went back to Intel in 2005 asking them to build a low power chip for mobile devices they refused. Apple moved to the ARM design and the rest, as they say, is history. Intel missed the train and today every phone and tablet runs on ARM. Windows already has ARM PCs and Apple announced last month that they are going to move the Mac to ARM.
Unlike several of their disastrous investments, Softbank moved in and bought a majority stake in ARM in 2016. Now is the time for this investment to pay-off.
If it pursues a listing, the chip-design company could go public as soon as next year, said the people, who asked not to be identified because the deliberations are private. That would accelerate a timeline SoftBank Group Corp. founder Masayoshi Son laid out in 2018, estimating an initial share sale for Arm sometime around 2023, a goal repeated in October by Arm Chief Executive Officer Simon Segars.

Source: Bloomberg
The push to list ARM is in no small means driven by all of the other failures that the company has seen in its portfolio. 
---
COVID and Consequences
Escape Artist
Quarantine is a word that has become quite well enmeshed in our lexicon since the pandemic started. When you travel, you quarantine. If you come across someone infected, you quarantine. And then there are those, who try to escape quarantine. An Australian celebrity tried to escape quarantine and was fined. Fines for escaping quarantine are becoming commonplace. One of the states in the US which has a fine for escaping quarantine - Florida. Would you have thought?
When Australians return to Sydney from trips abroad, the government requires them to stay in a hotel for two weeks. But recently, there have been several reports of citizens attempting to break out of their quarantine at many Sydney hotels. One woman, an influencer who had recently returned from Paris, was fined AU$1,000 (US$694) for busting out via the hotel's fire escape just a few days in; she might also face legal action for tampering with the sprinklers in the hotel room in which she was confined.

Source: Quartz
Real Estate
I have written about how real estate will not be the same once this pandemic is over. With the increasing 'Work from Home' schedule and the absence of the need to hang around cities, real estate is bound to change. There is one sector of real estate that is seeing spiking demand in India. With many people working from home, they are moving back to their home towns and emptying their houses in the city. Unable to shift out completely during the pandemic, they are putting their belongings in long term storage. 
In an extended work from home scenario, a growing proportion of the working population, primarily techies, are leaving the city and moving back to their hometowns, pushing up demand for storage houses, where household and office belongings are stocked securely for low rentals. 

Firms like Safe Storage, Storagians, StowNest Storage, Orange Safe Storage and MyRaksha, which provide the service, are witnessing a spike in the number of clients. 

Source: Times of India
Education
The one thing that is becoming increasingly clear to many parents working from home is that they did not need schools to educate children. They needed schools to be able to buy freedom from their children. The current situation makes it very unsafe for children to go to school. This is fast turning into a crisis. What is the way out?
American parents stand to lose even more productivity—and their minds—as more school districts like Los Angeles limit how many students will return to the classroom for the upcoming school year. This situation could weaken recovery efforts over the long term.

Source: Quartz
---
Finally
Garbage to Energy
Most of the garbage finds its way to the landfills. This garbage is often a source of various greenhouse gases. One of the gases that can be extracted from garbage is Hydrogen gas. A company is set out to turn all garbage into energy that could power homes and transport.
Most of the landfill gas at Puente Hills is captured by a network of subterranean pipes and used to generate enough clean electricity to power 70,000 homes. But Jean-Louis Kindler, the CEO and founder of a startup called Ways2H, still considers this letting our waste go to waste. If he has his way, we'll not need landfills like Puente Hills. Instead, he wants to use the world's trash as the raw feedstock to produce hydrogen, the perennial Fuel of the Future that could power our homes, planes, cars, and plane-cars. "There is so much waste available—plastic, municipal solid waste, medical waste," says Kindler. "All the things we are struggling with the processing are loaded with hydrogen."

Source: Wired
In the early 2000s, the world was at the precipice of a new kind of automobile. Companies in Japan and Germany were working on cars driven with Hydrogen Fuel Cell which would use liquid hydrogen as fuel and release water as the by-product. They would re-fueled just like our Petrol cars are - at a gas station. Do not require any new infrastructure. Have similar running range and are much more cleaner. 
At the same time, an internet entrepreneur who had recently sold his company invested in a company called Tesla. Armed with the loan from the US government, he set out to discredit Hydrogen Fuel cell technology. Ironically, he played the role of Edison, to save his investment. (Edison tormented Tesla and tried to prove Alternating Current would not work - we all use alternating current today) Under the guise of saving the planet, Elon Musk has created a Li-Ion Cell Garbage problem across the world. In any case, we will run out of it in the next 10 years. He hopes to be on Mars by then.
I hope we move to Hydrogen Fuel Cell.
Signing off…