Discover more from Learning by Proxy with Vivek Srinivasan
For those who are curious about the things happening around the world. Living at the Intersection of Politics, Business, Technology and Economics.
Learning by Proxy | Twitter - Innovation - Portland
Twitter got hacked, it is a miracle the third world war was not triggered; The "Innovators" are culling innovation; Portland street is looking like Tiananmen Square
Last week has been strange. There is a lot of stuff afoot, I plan to cover some of it next week. There is a lot for this week to unpack. India is spiking with COVID, it will be long before we return to any semblance of normalcy. In the meantime, India seems to only have time to discuss Rajasthan politics!
Let us dive in.
Foxed! 
It would not be an understatement to say that Fox News created Donald Trump. Trump would have remained a nobody but for the support that Rupert Murdoch provided Trump. All of the rest of the conservative media put together does that exude the influence over Republicans that Fox does. It is also not a secret that the hand that makes you can break you!
The Republicans are fed up with Trump. I am sure some of them are even cursing themselves for not have voted to have him impeached in February. Mitch McConnell is the most hatable Republican I have known. The Kentucky senator is one of the biggest supporters of Trump. Even he said, his support for Dr Fauci was Absolute. Trump has been running a campaign against the one person in the White House who is an expert in epidemics. 
Trump is threatening to not sign the next stimulus bill if payroll tax cuts are not approved as a part of it. 
Last weekend, Chris Wallace of Fox News called out Trump on his lies and grilled him good. Could this be a change of stance on the part of Fox News? If Fox turns on Trump, Trump will get destroyed.
Wallace unveiled the results of a Fox News poll that showed Trump losing by eight points to the presumptive Democratic nominee, Joe Biden. Trump was also behind Biden on the response to the pandemic, on race relations and the economy. He trails in other polls too.

Source: The Guardian
Twitter Hack
Twitter got hacked last week. The hacker(s) used social engineering to gain access to an internal tool that allowed the hackers to reset password to verified accounts. Amongst others, they hacked the accounts of Bill Gates, Elon Musk, Barack Obama, Apple and others. The hackers asked the followers to transfer bitcoins to a wallet and said they would double the sum. The world we live in - some thought this was for real - and made the transfer!
If you remember Elon Musk had to step down from the board of Tesla for having tweeted that he was going to get the Saudi's to purchase Tesla and take it private. The punishment did not fit the crime, it should have been worse. Still, the privileged boy wept about it. 
Donald Trump is used to making one policy announcement after the next using Twitter. Also, given how one crazy thing after the other is uttered by Trump; who is anyone going to disbelieve if he proclaimed war?
New York Times spoke to those who perpetrated the hack. It is incredible.
The hacker who received the message, using the screen name "lol," decided over the next 24 hours that Kirk did not actually work for Twitter because he was too willing to damage the company. But Kirk did have access to Twitter's most sensitive tools, which allowed him to take control of almost any Twitter account, including those of former President Barack Obama, Joseph R. Biden Jr., Elon Musk and many other celebrities.

Source: New York Times
More to the point, this is about the power tech companies have amassed. A private company getting hacked should not result in a stock-market meltdown or trigger a war. No private organisation should have this kind of power. You need to be hacking the government to cause nations to go to war, not some micro-blogging site.
There is a rule almost globally which does not allow a person to lie on an ad. This Wikipedia article only covers the laws in English speaking countries, but most countries have them. Somehow, this has not been applied to online advertising at all! 
Similarly, there should be a law on what political leaders can use such platforms to state. Should probably apply to all people in positions of power.
--
Turns out - it was an inside job!
Destroying Innovation
Think back to any startup that has had a sensible product which is actually capable of profitability, founded over the past 10 years. (Not WeWork, Theranos types) WhatsApp, Instagram, Siri, Zappos, Github - Do you know what is common amongst all of them?
Acquired!
I had written a white-paper a couple of years ago about the lack of an acquisition eco-system in India. This had resulted in many VCs not being able to exit their investments and make money because it's either IPO or death. Someone I respect, told me I was wrong.
Silicon Valley technology companies do not let any company flourish. Armed with their bags of cash, they go in entice the VCs to force a sell-out. The founders have no say often. WhatsApp is the perfect example of a founder who was so upset with the way the product was being pushed post-acquisition. Brian Acton left a Billion dollars worth of Facebook stock on the table and walked away. 
Big tech's buying spree is already being scrutinized by the US Federal Trade Commission, the EU, and Australia's Competition and Consumer Commission. On Monday, the US Congress is up: Apple's Tim Cook, Alphabet's Sundar Pichai, Amazon's Jeff Bezos, and Facebook's Mark Zuckerberg are all scheduled to appear before the House Judiciary Antitrust Subcommittee.

These four companies' US acquisitions alone have channelled $86 billion into the pockets of entrepreneurs, venture capitalists, early employees, and other startup investors. Billion-dollar buyouts motivate more tech founders to get started, but they can deter entrepreneurship as well. Albert Wenger, a managing partner at Union Square Ventures, has warned that the big tech companies have a "kill zone" around them, meaning startups that operate too closely to their businesses have no chance of success.

Source: Quartz
Facebook would not have been facebook if WhatsApp and Instagram had existed as competitors. Mark Zuckerberg would not be as arrogant.
Portland Street = Tiananmen Square
When the west wishes to deride China they always will bring up the picture of the one man that stood in front of the tank in Tiananmen Square.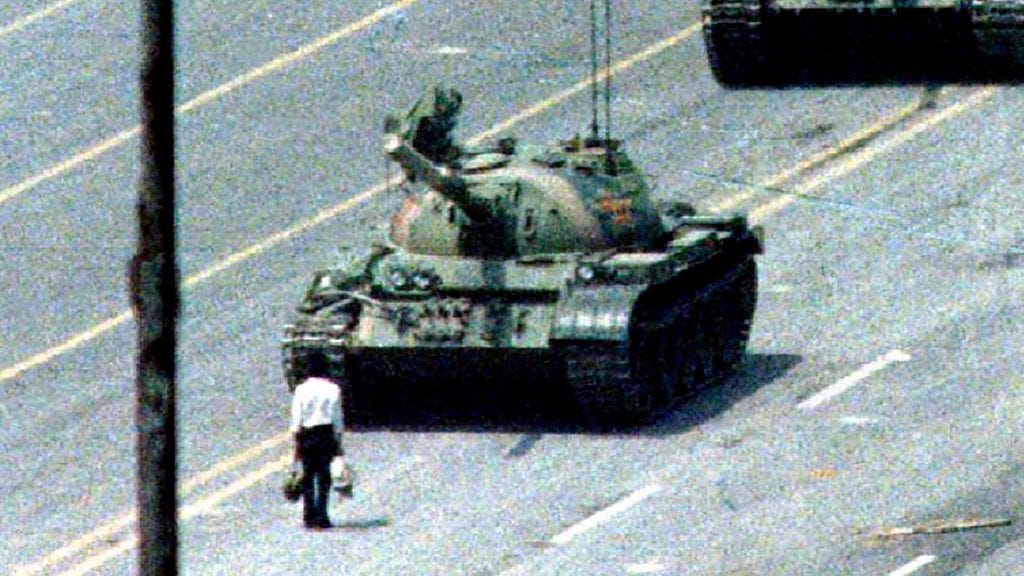 You tend to become what you hate the most, they say. America is having its Tiananmen moment. Not only that, but they are also having the worst of everything in recent history happen altogether! Federal Agents who have no business in local law enforcement have been sent out to Portland, Oregon to put down protests that have been ongoing for the past 60 days. This is also a leaf from Hitler's playbook. Hitler had the Gestapo which was above the SS and had over-riding powers.
A woman sat naked with a mask and cap, defying the agents on Portland Street.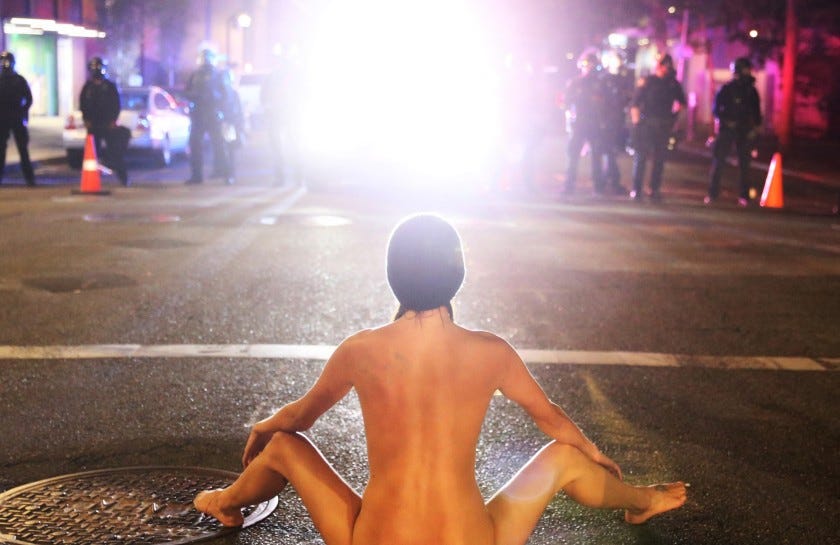 Tiananmen Square happened before the Internet and that image has endured. Imagine how long this one will.
A woman wearing nothing but a black face mask and a stocking cap strode toward a dozen heavily armed agents attired in camouflage fatigues, lined up across a downtown Portland street. The agents, dispatched by the Trump administration over vociferous objections of state and city officials, are part of a force that has fired projectiles at and detained activists protesting nightly since the killing of George Floyd by Minneapolis police May 25.

Source: Los Angeles Times
GPT 3
A few years ago, Elon Musk, the AI alarmist created an organisation that would work on the cutting edge of AI and create tools that would keep AI from being used for wrong. The organisation - OpenAI - has been publishing a whole host of algorithms and papers. The latest algorithm to be published is GPT 3 short for Generative Pre-training Transformer. It is a random sentence generator. It is fed with 175 Billion parameters OR everything written on the internet. That is a lot of data to be feeding on.
Ben Evans had once written a piece where he had compared a Machine Learning Algorithm to a dog. You know the dog did something but you do not know what it was thinking. 
Same with GPT 3. It is producing results that have left people mind-blown. If you can read the entire internet, you are bound to produce something useful. Not only that, but it is also programmable to interpret. Here are a few examples. 
Not only English it can also work on other languages - to the extent that there is data on the internet. 
Just when it starts to look like this is magic and AI can defeat humans it runs into something evolution has perfected. The brain.
While it seems this approach may lead directly to a general AI that can understand, reason and converse like a human, OpenAI warns that they may have run into fundamental scaling up problems, with GPT-3 requiring several thousand petaflop/s-days of compute, compared to tens of petaflop/s-days for the full GPT-2. It seems while we are closer, the breakthrough that will make all our jobs obsolete is still some distance away.

Source: Forbes
The human brain is the most power-efficient computer this world has seen. To run any algorithm with just as many processes simultaneously tremendous energy and compute power has to be available.
E-Commerce
Flipkart is seen as the company that brought e-commerce to India. They were constantly in pursuit of higher Gross Merchandise Value (GMV) because that was seen as the number connected to the valuation of the company. When Tiger Global came to India with the thesis - India is the next China, they did not take into account that China started with Alibaba, a B2B platform, not a B2C platform. 
Flipkart set all the wrong expectations - discounts and free home delivery. Even today the company is not profitable. Maybe not even relevant.
India's Alibaba was IndiaMart and they went ahead with an IPO a year ago. They may not have a turnover comparable to Flipkart, but they do have one thing that Flipkart does not - profits. Even during a pandemic.
B2B e-commerce platform IndiaMART has posted over 64% increase in its net profit at INR 74.6 Cr in the first quarter of the financial year 2021, versus INR 44 Cr in the previous quarters. In terms of year-on-year growth, the listed company has registered a two-fold increase from INR 32 Cr. 

Source: Inc42
Hong Kong
For the longest time, Hong Kong has been the financial centre of Asia. Several International banks have been based out of Hong Kong and the easy movement of capital also encourages a lot of wealthy Chinese to park their money in the state. Singapore has been steadily eating away at the dominant position that Hong Kong holds. 
I saw an opinion suggesting Mumbai could replace Hong Kong as the financial capital of Asia.
"We are home to some of the large industrial houses (domestic and global) and top financial institutions. Our central bank is one of the most trusted regulators," said Manjeet Kripalani, co-founder and executive director of Mumbai-based think-tank Gateway House. "Also, the city has the oldest stock exchange in the world and a commodity market in place." The city can also boast of a huge port, she added, and is perfectly placed in terms of time zone between the east and west.

Source: Quartz
Jokes! The city is underwater every monsoon. That notwithstanding, India would need to undertake unprecedented tax reforms and make it easy for capital to move across borders to be able to get Mumbai to even hold a chance at hoping for a position similar to Hong Kong. 
Media
Media has been undergoing a huge change over the years. With the advent of the internet, newspapers were the first to take a hit. It was always known the ad dollars would slowly move away from traditional media but TV has been resilient. 
I got rid of Cable about 4 years ago. Before that, I would pay Rs. 7500 each year to Tata Sky. I would not have discovered Hotstar for a few more years but for a mess-up by Tata Sky. During their systems upgrade, they knocked out TV for a full month. They refused a refund. I started watching live sports on Hotstar and that was the end of that. I had no reason to go back to Tata Sky.
I never understood the reason Americans stuck around with cable and kept cursing it. I was told it was live sports but there should be an online option, why is it not there? Either way - the pandemic put all sports to bed and with it, looks like cable is going to go.
AT&T reported it lost another 886,000 cable and satellite TV subscribers in the second quarter of 2020. The telecommunications giant—the second-largest TV provider in the US behind only Comcast—lost about the same number of TV subscribers in the previous quarter. Its total subscriber base has eroded 18% in the last year alone.

Source: Quartz
On that note - PVR, the largest Multiplex chain in India is planning to start delivering popcorn through Swiggy!
Glass
The story goes, Steve Jobs called the board line of Corning Glass and asked them to put him through to the CEO. The operator politely told him, if he did not have an appointment she could not. Steve was pissed and told a common friend that Corning was all East Coast bullshit! Wendell Weeks, the CEO of Corning heard about this and called the board line at Apple - asked to speak with Steve Jobs. Obviously, they refused. He wrote back to Steve saying what had happened. The rest, as they say, is history.
Corning Glass has done for Apple just much as Apple has done as Corning. Apple put this small glass company from New York on the map and Apple was able to deliver a product that blew everyone's mind. They are bringing something new to the market.
It takes about two years for Corning to develop each new generation of Gorilla Glass, the resilient material that graces a critical mass of iPhone and Android devices. That process has for several update cycles focused on protecting screens against drops, fending off shatters and cracks by boosting what's known as compressive strength. The newly announced Gorilla Glass Victus, though, gives equal weight to prevent scratches. That's harder than it sounds and more useful than you'd think.

Source: Wired
So, no more scratches.
Worth a read
If you want to know what we are fighting about in the Galwan Valley with the Chinese - This is an insanely great analysis by the New York Times
The Center for Climate Change Communication has published a handbook on how to discern between conspiracy theory and an actual conspiracy.
---
Signing off…