Learning by Proxy | Reliance
Reliance is doing a double act; Is the virus an act of god?; Even if your country wants it, you need a passport to leave the country!
Another week went by; where Donald Trump was nominated for the Nobel Peace Prize; the aggression at the LAC between India and China resulted in shots fired after decades and the west coast of the US has been left looking like a burnt toast. Seems par for 2020.
The bad news just does not stop arriving this year. Part of me thinks we set ourselves up for this. It is just that all the dominoes are falling at the same time. That does not mean everyone is having it bad.
Let us dive in!
Retailing Reliance
When the economy is not performing well, the governments tend to reduce interest rates to encourage borrowing. The hope is that the borrowings will be invested to grow the business thereby creating jobs and increasing consumption.
On the other side, capital hates this low-interest environment. Hence, Capital began moving to the stock market seeking higher returns, causing the "Stupid Boom" that we are currently witnessing! Capital looks to buy assets that will appreciate over time. Listed or un-listed, businesses represent an asset. 
A telecom company in one of the world's largest telecom markets, which has managed to corner over 30% of the market share in just 5 years, sounds like a good asset. All the better if they can absorb a lot of capital.
The entire fundraising ecosystem, the world over, has been put to shame by the USD 15 Billion Reliance managed to raise for Jio Platforms at the peak of the pandemic. This move effectively allowed Reliance to make itself debt-free and align with some of the most dangerous photocopiers in the world. Birds of a feather…
It also helps if the spectrum that you built the empire on belongs to your brother, whose company has gone bankrupt!
The Supreme Court on 14 August had asked Reliance Jio why it should not be held liable to pay the dues of RCom as it has been using the latter's spectrum since 2016, directing the two telcos and department of telecommunications (DoT) to submit details of the spectrum-sharing agreement.

Source: Livemint
A few days later the Supreme Court agreed.
The Supreme Court has exempted Bharti Airtel and Reliance Jio from paying around 40,000 crores of past dues for using the spectrum of other telecom companies who are bankrupt. Notably, Jio uses a spectrum of Anil Ambani's cash strapped Reliance Communications (RCom) while Airtel avails spectrum owned by Videocon and Aircel.

Source: NDTV
The Supreme Court also gave all the telecom companies, 10 years to clear their AGR dues. This was necessary to ensure that the existing telecom companies survived and also to make sure that the government got something at the end of this whole ordeal. 
For all practical purposes, Reliance is going to be in a position to outdo all of its competitors. For the first time, Airtel and Vodafone-Idea [Rechristened - VI] are talking about a 40% increase in tariffs, if they have to have any hopes of survival. Jio on the other hand has no debt, 200 Crores in AGR which it has already cleared and potentially huge 5G contracts in the offing given Huawei.
Using the same playbook
If you have a successful playbook, would you not use it again and again?
Welcome to Reliance Retail.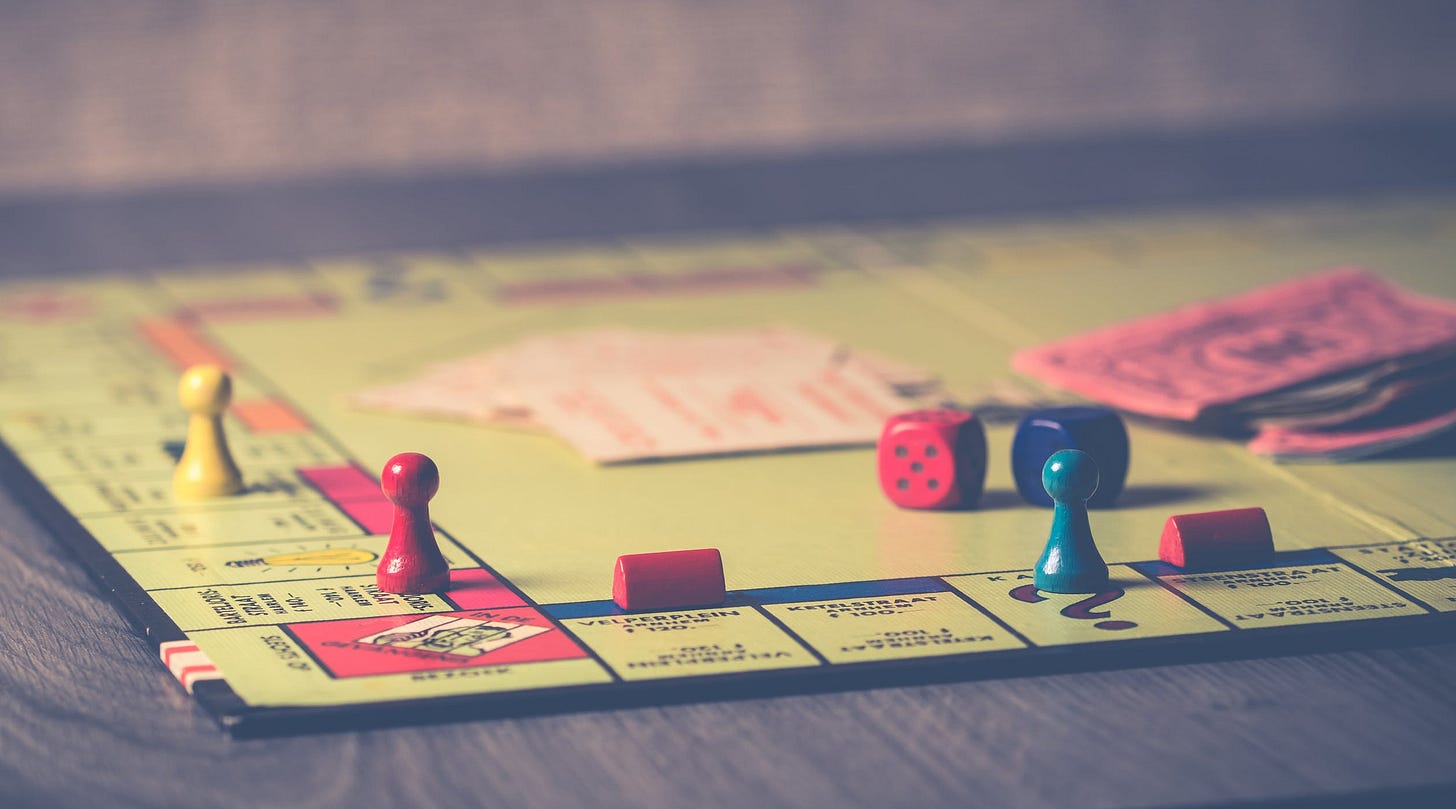 A company that has been almost 15 years in the making. I started my career in retail consulting in 2006 and everyone seemed to be opening a retail chain - Pantaloon Group, Aditya Birla Group, Tata Group, Godrej, and several others. Today, many of them are in dire straits. The largest of them Pantaloons which birthed the Future Group was forced to sell itself to the Aditya Birla Group a few years ago. Now, the entire Future Group is being acquired. No prizes for guessing.
"Reliance Retail Ventures Ltd (RRVL), subsidiary of Reliance Industries Ltd will acquire the retail and wholesale business and the logistics and warehousing business from the Future Group as going concerns on a slump sale basis for lumpsum aggregate consideration of INR 24,713 crore," the company said in a statement.

Source: Livemint
Before all this, Amazon had bought a small stake in Future Retail, amounting to ~3% of the company. Now, Amazon seems to be in a place where it already has a small stake in Reliance Retail consequence of the acquisition. Since Amazon missed out on the Jio funding bonanza, an opportunity may have opened up for them to get in on the party!
PremjiInvest owns a 6% stake in Future Retail, while Amazon has 3.6% in Future Group flagship firm Future Retail.

According to media reports published last year which two cited senior industry executives, global e-commerce giant Amazon too was in talks to acquire about 26% stake in Reliance Retail. These investment talks have started after Reliance's deal with the Chinese e-commerce giant Alibaba did not complete because of differences over the company's valuation, the report added.

Source: Inc42
Silver Lake was one of the earliest participants in the Jio Deal. They have struck a deal again. Over and above all of this, it seems Amazon is lining up USD 20 Billion!
Force Majeure
In every agreement, there exists a Force Majeure clause under which the parties can relinquish their contractual obligations. Force Majeure can cover situations that are normally deemed acts of god [natural catastrophe] or war and other such [human-made catastrophe] situations that prevent a party from living up to their obligations. The Indian government has been under fire for the non-payment of GST to the states and there is no agreement on who should raise capital [center or state] to help tide through the current situation.
Pushed to the corner, the centre mentioned 'acts of god'. No sooner was the syllable uttered; the question of what this could mean for other businesses under contractual obligations came up!
If contracts involving the Centre — a sovereign that has the power to decide policy— are deemed null and void on account of force majeure, this could have a bearing on a range of contracts that include payment obligations such as rents, interest payouts, utility bills and even salaries.

Source: Indian Express
Dysfunction
India has had the worst drop in GDP in 40 years. More than 20% drop in one quarter. Unemployment has been shooting up. India is adding close to 100,000 cases per month. Looks like we would surpass the USA before September comes to an end. There are border tensions with China. Tax collections are down as mentioned above. What would you think would be the news dominating the country?
Chief Minister Nitish Kumar invoked Rajput's name at his first virtual election rally on Monday and his alliance partner BJP has been distributing car stickers, masks and pamphlets with the actor's smiling face, Mr Tewary says, adding that "once the elections are over, no-one in Bihar will talk about Rajput".

The story may have a longer shelf life in the western state of Maharashtra - capital, Mumbai - where an ugly spat has broken out between the BJP and its former ally-turned-bitter rival Shiv Sena, which governs the state.

Source: BBC
With the lockdown, news channels had lost viewership. Not being able to go out and get stories would have hurt their revenues severely. This is a golden opportunity to keep the audience engaged and make good the losses.
Expulsion
In the edition titled Anger; I had mentioned the unrest in Belarus about the elections. The Opposition leader who should have won the election quit the nation and sought refuge in Latvia. Others stayed behind, most notably, Maria Kolesnikova. She disappeared a few days ago and all fingers of suspicion pointed towards the government. 
The abduction of Ms Kolesnikova, the latest in a series of disappearances engineered by Belarus's security agencies, followed large protests on Sunday in Minsk, the capital, and towns across the country. It seemed to reflect a shift in strategy from the initial frenzy of police violence against protesters to picking off opposition leaders one by one and sending them out of the country.

Source: New York Times
She was in-fact abducted and asked to leave the country so that she would not foment trouble. How do you ensure that you cannot be sent out of a country? Tear your passport!
The three were taken to the border with Ukraine by men in plainclothes early on Tuesday morning, Mr Rodnenkov said.

But when the car reached a checkpoint between the two countries, Ms Kolesnikova prevented her deportation by ripping up her passport and throwing away the pieces, he said.

"It was clear that she was being taken by force, she was resisting," Mr Rodnenkov said.

Source: BBC
Facebook and Truth
Facebook has been under fire for election manipulation. To ensure that this time around the US election takes place in as fair a manner as possible, the company announced unprecedented changes to its policies. 
In an acknowledgement of how powerful its effect on public discourse can be, Facebook said it planned to bar any new political ads on its site in the week before Election Day. The social network said it would also strengthen measures against posts that tried to dissuade people from voting. Post-election, it said, it will quash any candidates' attempts at claiming false victories by redirecting users to accurate information on the results.

Source: New York Times
This is a serious change and hopefully will result in a reduction in misinformation. But Ellen Pao has a point.
Anti-trust
There have been a few major antitrust proceedings in the history of the USA. In the early 1900s, most film production companies owned theatre chains as well. This would make it harder for the new and upcoming production house to get noticed. You can read The Master Switch to learn how this evolved.
A consent decree put an end to it in the 1940s. This broke up the studios and the exhibitors. The businesses got separated and led to a huge amount of innovation in the film industry. The case was against Paramount Studios and the decree came to be known as the Paramount Consent Decree. This week, that got undone!
But with some deregulatory fervour, the Trump-era DOJ has been taking a hard look at long-lasting behavioural remedies for older antitrust abuses. Last November, the DOJ moved to terminate the decrees. In the government's estimation, total bans on practices like "block-booking" (bundling multiple films into one theatre license) and "circuit dealing" (the practice of licensing films to all movie theatres under common ownership, as opposed to licensing each film on a theatre-by-theatre basis) had outlived their usefulness. It was time to sunset them and get rid of other rules. Some indie theatres warned the move would usher in new consolidation with tech giants like Amazon swooping in to acquire theatres.

Source: Hollywood Reporter
One way to think about it would be that COVID has pretty much put a nail in the coffin of the theatre business. Hence there is not much power to be amassed by this roll-back. Alternately, one could argue that Netflix or Amazon (still worse) could acquire several theatre chains on the cheap and use that as leverage against content creators. Only time will tell.
Also
On the 75th Anniversary of the Second World War. Some incredible stories by New York Times
I had written about how the weather is going crazy. Looks like South East USA is getting pasteurised.
The Indian press hungry for exclusives is willing to even interview the postman.
My good friend Arnaud posted these picture of post-apocalyptic San Francisco
Capitalism in the US. Making lemonade when you are served lemons.
---
You have come this far, so I will assume you enjoyed reading this. If you are not subscribing but still want to know when Learning by Proxy drops; follow me on Twitter @viveksrn 
It takes me time to write this. If more people read it and comment on it, it encourages me, so please do share this post with anyone who might like to read it. Also, if you have comments, please add them below.
Signing off…