Learning by Proxy | Judiciary
The judiciary is an independent arm of a healthy democracy, is it able to perform its function? Countries use aid to force their policies on others; Which Reliance product do you love?
In 1979 during the Islamic Revolution, Iran set up several revolutionary courts to try those who were considered aligned with the Shah of Iran or with any of the western powers. The decision was already known to those being tried as well as those passing the judgements. The court was a mere veneer meant to indicate that justice was being done.
The law of a land is meant to reflect the manner in which the people of the land think. What they value; what they hold dear; what they see as right and wrong.
In authoritarian regimes, the law reflects the wishes of a few. In 1979, Iranian law reflected only the wishes of the revolutionary guard; they had usurped power. Is this right for the rest?
Countries that are counted amongst the largest democracies are standing at crossroads where the law may not represent the wishes of all but a few.
Judiciary
Democracies are structured to have three branches - The executive, the legislature and the judiciary. 
The legislature is appointed by the people through their vote. The legislature is responsible for creating and repealing laws, through a process of discussion and representation of interests. The legislature has two forms, Unicameral and Bicameral. I don't want to turn this into a civics lesson and hence don't want to go into the details but check out the links.
The executive is responsible for ensuring that the laws are executed and enforced. For which the Judiciary is appointed to interpret and apply the law in the name of the state.
In most countries, the highest judicial body is the Supreme Court. The individuals appointed as Supreme Court judges are the ones who would ultimately interpret a law. In the US, upon the death of Ruth Bader Ginsberg, a seat on the Supreme court got vacated. The Senate and the President have the responsibility to fill the position and since both are run by Republicans, they are pushing for an appointment.
Roman Catholics account for a bit more than 20% of the U.S. population, yet they are on track to hold six of the Supreme Court's nine seats now that President Donald Trump is expected to nominate Amy Coney Barrett to fill its vacancy.[…]

Catholics also are well-represented in Congress — holding just over 30% of the seats. Yet there's still been only one Catholic president, John F. Kennedy. Trump's Democratic rival, Joe Biden, would be the second if he wins.

Source: Livemint
In my previous edition on Brexit, I had described how the Catholics fled to America in search of religious freedom as England was turning Protestant. While according to the census Catholics represent 20% of the population. Take out the immigrants, the green card holders and voters who are suppressed into not voting and percentage become much higher. With this appointment, there will be 6 Catholics in a 9 member Supreme Court. This has the potential to turn the US into a deeply conservative state. 
Meanwhile in India, the Judiciary is under siege. 
Almost 3 decades ago, the Babri Masjid was demolished in the Indian city of Ayodhya which is the birthplace of the Hindu god Ram. Several BJP leaders were part of the incident and one of them was the erstwhile President of the party. They claimed that a temple used to exist at the location and needed to be returned to its rightful location. A special CBI court was constituted and it arrived at the final decision.
CBI judge Surendra Kumar Yadav said the demolition of the 500-year old Babri Masjid was not pre-planned and the accused were being acquitted due to lack of evidence. "They have been acquitted for lack of evidence," said defence lawyer KK Mishra.[…]

"This proves that no conspiracy was hatched for December 6 incident in Ayodhya. Our program and rallies were not part of any conspiracy. We are happy, everyone should now be excited about Ram Mandir's construction," Joshi said.[…]

The Babri Masjid was demolished on December 6, 1992, by 'kar sevaks' who claimed that it was built on the site of an ancient Ram temple. The demolition had triggered riots in many parts of the country that left nearly 2,000 dead. Following this, two cases were filed in Ayodhya: one related to the conspiracy of the demolition, and another about the instigation of the crowd. The remaining cases were merged with the conspiracy FIR.

Source: Indian Express
Also
Two officials said BJP leaders gave provocative speeches. (File)

* Heard slogans of "Babri Masjid tod do", but cannot prove who raised the slogans.

* Could not hear the speeches given by the political leaders (who sat 800 metres away).

* There was noise and dust, could not hear anything.

Source: IndianExpress
The court said nobody identifiable was involved in the demolition and just a random mob descended one day!
Also last week, UP a state ruled by an ascetic monk, who also happens to be a part of BJP, saw a gruesome rape. The girl was taken from Hathras where the incident took place to Delhi to be treated at the Safdarjung Hospital. She passed away at the hospital. The police at the hospital decided that it would only be right to cremate her immediately against the will of the family. 
Before daybreak and in an inexplicable hurry, the 19-year-old Dalit girl, who had died in Delhi's Safdarjung Hospital on Tuesday 15 days after being tortured and gang-raped allegedly by four upper-caste men in her village, was cremated by police at 2.40 AM on Wednesday. Her relatives said they never consented; police and administration said they did. 

Source: Times of India
As expected a couple of days later, the police released a report that there was no evidence that it was rape! Read their statement here.
In the meantime, this is what a former Supreme Court Judge through about it.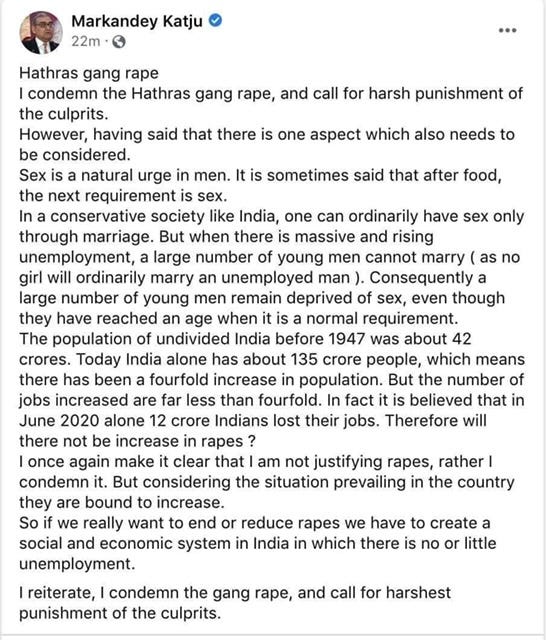 Enforcing Belief
If the US is going to hell and wants to be conservative, so be it. Why should I care?
Because they aid a lot of nations and the unfortunate truth is that they impose their policies upon those that receive this aid. Take for instance an AIDS clinic that they are funding in Africa and the US policy wades towards anti-abortion. They would not allow the clinic to encourage abortion and would threaten to pull back the aid if they do.
The Mexico City Policy—often referred to as the "Global Gag Rule"—is a US government policy that requires non-governmental organizations (NGOs) that are not based in the US and that receive US global health assistance to certify that they will not provide, refer for, counsel on, or advocate for abortion as a method of family planning. The rule also applies to any non-US funding that the organization may receive.

The policy was rescinded by President Obama in 2009 but then reinstated and expanded by President Trump in 2017. While prior iterations applied only to family planning assistance ($575 million in 2016), Trump's new version extends the restrictions to nearly all US global health assistance—an estimated $9.5 billion – which includes funding for HIV/AIDS, malaria, and maternal and child health. For example, it now means that an organization that provides HIV care and treatment with US funding may not also provide safe abortion.

Source: Quartz
For many of these nations, the support that they get from USAID and other such agencies is critical. American conservative nonsense is not a choice, even if it is wrong!
Garbage
Collecting garbage is a huge problem. In cities across the world, some dustbins collect the trash and it continues to decay, producing stench across the city. This is true of even the most advanced countries in the world. Managing this garbage has posed a challenge to most countries. Sweden is working on a system that can collect this garbage and vacuum it through underground tubes out of the city.
Envac, the Swedish company that controls most of the trash-tube market, says its infrastructure beautifies city streets, curbs carbon emissions and traffic snarls caused by garbage trucks, and keeps the rats away. The systems can even keep track of how much waste individual households and businesses generate, allowing local governments to tax them accordingly.

Source: Quartz
44 cities including Seoul and Barcelona has been using this for their cities.
Somethings money can't buy...
Like developing product chops!
When Jio Platforms had raised a boatload of capital earlier in the year and comparisons were being made to Tencent, I was sceptical. I had written at the time and some somethings cannot be solved by throwing money at the problem. 
Reliance is not a company known for its ability to develop tech products. Amazon is not Amazon because of the money that it has. There was a time when Amazon did not have the money. What they did have was a great product that they kept chiselling at. That is what helped make all the other things possible. 
Reliance is making it obvious it does not have those capabilities.
Global tech giant Infibeam Avenues, which runs payment gateway company CCAvenue, has signed a deal to license its e-commerce and payment software to Reliance Industries-owned digital platform venture Jio Platforms.

The platform allows enterprises to transact online, manage orders, inventory and logistics, process digital payments and manage online marketing. The company also leases the e-commerce and payment platform to other giants like Sony and Nilkamal. Previously Infibeam had won the contract to run the government e-marketplace (GeM).

Source: Inc42
You cannot deliver a world-class experience by depending on someone else's product. Walmart has made this amply clear through the myriad experiments that they have run across the globe. 
Also
Elon Musk said that Tesla would launch in India soon. So maybe by 2023.

The Supreme Court also declared that protests, even if peaceful, should be undertaken in specific places. Some opinion on the same.
---
You have come this far, so I assume you enjoyed reading this. If you are not subscribing but still want to know when Learning by Proxy drops; follow me on Twitter @viveksrn 
It takes me time to write this and if more people read it and comment on it, it encourages me, so please do share this post with anyone who might like to read it.
Signing off…