Discover more from Learning by Proxy with Vivek Srinivasan
For those who are curious about the things happening around the world. Living at the Intersection of Politics, Business, Technology and Economics.
Learning by Proxy | Insult to Injury
Facebook has been sharing all kinds of data for ad targeting. Signal is exposing them on their own platform.
Information is power and the first company to discover how to leverage this was Google. But even Google not went as far as Facebook did with leveraging information. Now, as the degree of targeting becomes obvious, there is one expose after the other that is coming forward. Cambridge Analytica exposed Facebook, but not in a way that was as apparent as Signal.
Adding Insult to Injury
Thousand three hundred years ago during the Nara period in Japan, combining Sumo wrestling and martial arts, a new fighting technique was brought to the fore. It was called Jujutsu. This form of martial art was developed to combat someone who is wearing armour and armed in which one uses no form of weapon themselves.
The principle is of using the energy of the opponent against them rather than opposing it.
When WhatsApp was acquired by Facebook in February 2014 for an eye-popping figure of USD 21.8 Billion. The largest acquisition of a startup — One that was generating almost no income questions about what Facebook would do abound. Facebook was obviously going to monetise WhatsApp in the future but there were some contours drawn around what would be done as a part of the acquisition.
Unhappy with the direction that Facebook was taking with the product especially in terms of user privacy, both the founders of WhatsApp who were part of the Facebook team at the time, left the company. The irony is Brian Acton, one of the founders of WhatsApp has applied for a job at Facebook years before founding WhatsApp and was rejected. He left more than a billion dollars worth of Facebook shares, which would have vested has he stayed, on the table when he quit the company in protest against Facebook's actions.
He went ahead and started an NGO called Signal, which made a competing product to WhatsApp. Last year when Facebook changed its policies, people moved in droves to Signal. The app has since been downloaded over 100 Million times.
Signal is no match to WhatsApp.
But they decided to engage in jujutsu against Facebook. The company went ahead and bought ads on Instagram using data that Facebook itself makes available to any advertiser. The ads looked like this.
We created a multi-variant targeted ad designed to show you the personal data that Facebook collects about you and sells access to. The ad would simply display some of the information collected about the viewer which the advertising platform uses. Facebook was not into that idea.

Source: Signal
They exposed the targeting that Facebook allows and the degree to which an advertiser can target using your personal data on Facebook. It is pretty scary the amount of information that Facebook is willing to expose.
The response was swift!
According to Signal, Facebook blocked its account on Instagram. "The ad would simply display some of the information collected about the viewer which the advertising platform uses. Facebook was not into that idea. Facebook is more than willing to sell visibility into people's lives, unless it's to tell people about how their data is being used. Being transparent about how ads use people's data is apparently enough to get banned; in Facebook's world, the only acceptable usage is to hide what you're doing from your audience," Signal wrote in its blog.

Source: Indian Express
That was not all, Facebook has been in the news for more. Facebook had created an Oversight Board which is independent of the company. Their responsibility would be to evaluate decisions taken by Facebook as an independent body and to determine if what the company did was right or not, especially in the case of content moderation.
Facebook had made a decision to ban Trump from its platform in the aftermath of the January 6th Insurrection. This was a huge and momentous decision and put an end to all the conspiracy mongering from Trump. Facebook referred that decision to the Oversight Board. They wanted to make it the problem of the Board and the board threw it right back at Facebook.
Facebook's oversight board, which on Wednesday upheld the company's ban of former President Donald Trump, also had some harsh words for its corporate sponsor: Facebook. "In applying a vague, standardless penalty and then referring this case to the Board to resolve, Facebook seeks to avoid its responsibilities," the board wrote in its decision.

Source: Economic Times
The board essentially said there were no rules for an indefinite ban that Facebook itself had. In the event that such a decision is taken on what basis were they to determine if it was right or wrong in the absence of any rules? Create the damn rules they said - in the next 6 months.
Zuckerberg has close personal ties with most of the members of his board of directors, and directors who attempt to exercise oversight tend to leave the board not soon after, according to a report in the Wall Street Journal. Most significantly, Zuckerberg holds controlling power from his shares of Facebook stock, making the votes held by the company's investors irrelevant. This is why time and again, proposals pitched at the company's annual shareholders meeting are swiftly rejected, despite in some cases receiving support from a majority of shareholders not named Zuckerberg.

Source: CNBC
This is Mark's problem essentially. He made a decision and he now need to answer for it.
Fire-Sale
14 years ago, the fourth instalment of Die Hard was released. The plot of the movie involved American terrorists taking over American infrastructure which is all online, through a cyber attack, and then demanding a ransom to restore everything. If not they say, they will send America to the Stone age!
The US issued emergency legislation on Sunday after Colonial Pipeline was hit by a ransomware cyber-attack.

The pipeline carries 2.5 million barrels a day - 45% of the East Coast's supply of diesel, petrol and jet fuel.

The operator took itself offline on Friday after the cyber-attack. Work to restore service is continuing.

On Monday, the FBI officially confirmed that DarkSide was responsible for compromising Colonial Pipeline's networks, saying that it was continuing to work with the firm and other government agencies on the investigation.

Source: BBC
Last year, critical organisations including the Pentagon were hit by cyber-attackers as a part of the SolarWinds hack. This was a man in the middle attack, where you use a service that a lot of companies depend on and attack it to reach the victim instead of attacking the victim directly.
This one was far more direct. DarkSide is based out of Russia and advertises itself as an organisation that is apolitical and provides Ransomware as a service. They are only interested in making money they said.
"We are apolitical, we do not participate in geopolitics," DarkSide posted on Monday. "Our goal is to make money, and not creating problems for society. From today we introduce moderation and check each company that our partners want to encrypt to avoid social consequences in the future."

The statement is reminiscent of any industry promising to self-police as an alternative to government regulation. But even if you could take DarkSide at its word, the implication is that it's somehow acceptable to target certain organizations with ransomware if they're carefully selected.

"The idea that ransomware operators should decide who is worthy of being compromised is extremely problematic to say the least," says Katie Nickels, director of intelligence at the security firm Red Canary. "It's absurd."

Source: Wired
Interestingly the last paragraph seems to describe another company we were discussing earlier.
In all likelihood, the Russians bought the ransomware from DarkSide and used it to attack American infrastructure. This sent alarm bells ringing. The Department of Transportation asked for oil to be distributed by trucks in order to avoid shortages if the pipeline is down. It has slowly been coming back online.
For now, it looks like apart from words, America has nothing to offer.
Callow and other researchers emphasize, though, that it's difficult to produce meaningful deterrence when it comes to ransomware and cyberattacks in general. Even after repeated wakeup calls and ransomware-related disasters, governments have not shown enough urgency in trying to solve the problem.

Source: Wired
What if somebody decides to do Die Hard 4.0 in real and they are not sitting in Pittsburgh for Bruce Willis to go beat up?
Chinese Hot Water
Last year Jack Ma got into hot water with the Chinese Government when he criticised them. Then his IPO was killed, he disappeared for a few months. The headline on 11 May 2021 read "Jack Ma makes rare visit to Alibaba Headquarters". Separating Jack Ma from Alibaba is like separating Steve Jobs from Apple. Seems like one year is all it takes for something to be deemed rare.
Now, another entrepreneur is in trouble. The founder of Meituan, the Groupon of China that also runs a service similar to Yelp shared something.
Wang Xing, the billionaire founder and CEO of Chinese food delivery giant Meituan, faces questions about whether he delivered a veiled criticism of the government with a classical Chinese poem he posted on social media platform Fanfou last week.

Written by a poet from China's Tang dynasty (618-907), the poem is viewed by commentators as a merciless and sharp condemnation of Qin Shi Huang—the creator of China's first unified empire the Qin dynasty (221-206 BC). The poem mocks the emperor's crackdown on scholars and his burning of books, which was a way for Qin Shi Huang to consolidate his power. In the end, the regime was overthrown by non-intellectuals, the poem says (link in Chinese).

Source: Quartz
Meituan was also a part of the anti-trust investigation that the Chinese government has been rolling out against several tech startups in China. The poem stirred up controversy.
What repercussions, if any, might arise would be watched closely most of all by investors. China needs to be careful not to chase away global investors at a time when global sentiment towards the country is at a nadir. Not to mentioned several international governments are plotting to move their businesses out of China and alienate the country.
Also
PR all the way! Even if that means inventing new Media companies!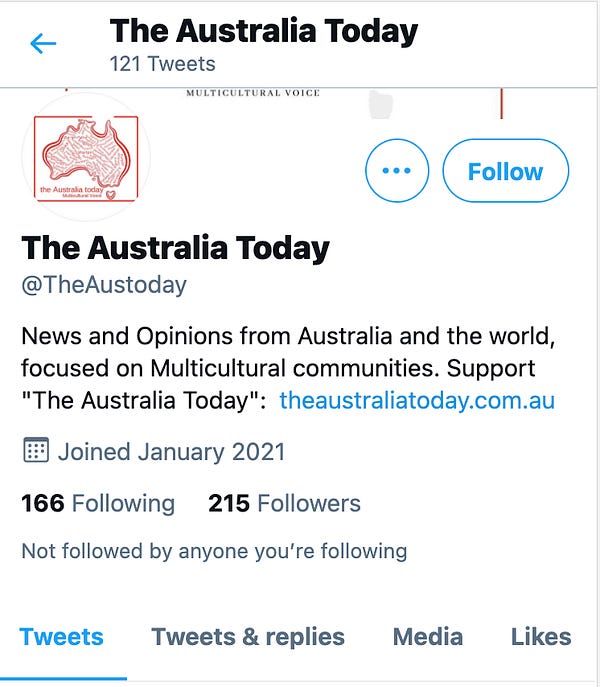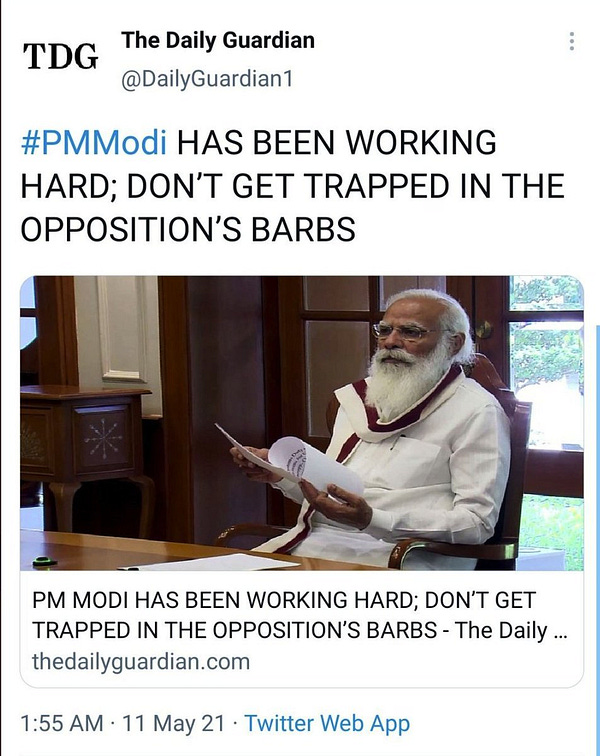 ---
Would love to hear what you think about it, do leave comments below.
Share if you like it.
Also, follow me on Twitter @viveksrn to know when the newsletter drops.
What we think, we become ~ Buddha
---
You can follow my podcasts at https://viveksrinivasan.com/podcast