Discover more from Learning by Proxy with Vivek Srinivasan
For those who are curious about the things happening around the world. Living at the Intersection of Politics, Business, Technology and Economics.
Learning by Proxy | Federation
Democracies need to be held together, there does not seem to enough holding it together; What if your government starts running the App Store, how many of you will fancy it?
Humans are the only animals, not genetically predisposed to (like ants and bees who are genetically programmed to), capable of organising in numbers greater than 100. In the animal kingdom, invariably multiple alphas emerge and the herd splits. The ability to organise at such scale is what makes us superior to them. We organise ourselves as companies, organisations and countries. The ability to keep things functioning that way is subject to a feeling of trust amongst all the participants. If trust is absent, everything else soon begins to fall apart.
Federation
When the first settlers arrived in the US, proprietors were granted a charter by the King to lands in America. More and more people came and settled these lands and cities developed. For instance, Pennsylvania belonged to the Penn Family; the new "Maryland Colony" was named in honour of Henrietta Maria of France, wife of Charles I of England and belonged to George Calvert. 
This is also the reason why you have plenty of small state in the American north-east. The rest of America was divided up by companies such as the Mississippi company and the Ohio company. These companies were created for land speculation, in which several investors from Europe invested. Many ended like Softbank did with WeWork, the Mississippi Company is often compared with the Tulip Mania. Real Estate is a tough cookie, I tell you.
Each State was an independent colony with its Government. One of the greatest challenges for the Declaration of Independence to be signed was not the British, but to get these colonies to submit to a federal government. Also, explains the nonsense that is the electoral college.
Since many of the people who signed the declaration of independence were from Virginia, they picked a plot of land comfortably close to the state and built a new city which would serve as the capital - Washington D.C.
By comparison, India was already divided into 11 provides and a handful of princely states by the time we sought Independence. At the time, the provinces were given the option to join either India or Pakistan. Of the princely states, Bhutan, Hyderabad and Jammu & Kashmir held out. What could not be solved through diplomacy, the gun resolved. 
Indian and America are two colossal democracies, following some version of federal control. And in both cases, trust seems to be fading.
New York Governor Andrew Cuomo on Thursday said the state will carry out its own review of coronavirus vaccines authorized or approved by the federal government due to concerns of politicization of the approval process.

Source: Reuters
Not only New York, several other states including California, Oregon, Connecticut and others have also declared that they will undertake their own review. Healthcare guidelines are a centrally run function under the FDA and the CDC in the USA. Unfortunately, the states don't expect these bodies to do what is best for their people.
California has always been at the forefront of making progressive laws. They were the first to pledge net-neutrality; are currently going after Uber and Lyft for the way they classify their drivers and now as the state burns;
California, the world's fifth-largest economy and the state that created U.S. car culture, will stop selling gasoline-powered automobiles within 15 years, Gov. Gavin Newsom (D) announced Wednesday.[…]

The state's clean air regulator, the California Air Resources Board, will develop regulations that ensure every new passenger car sold in the state is electric or is otherwise zero-emissions by 2035. Automakers would have until 2045 to make sure all medium- and heavy-duty trucks and other vehicles were zero-emissions, as well.

Source: Washington Post
The states are taking it upon themselves to formulate the plan that will solve their problems. Not only that, many states are formulating their own rules on what level of closure to maintain for COVID as the cases surge. 
On the other side of the world, India did not operate as a federation. We have the central list, the state list and the concurrent list. Indirect taxes used to be the prerogative of the state. It was hard for business because they had to deal with multiple taxes across state lines until GST came along. GST was implemented such that the centre collects the taxes and disburses to the states. Since the lockdown began in March, the state governments have been fighting the central government to have their GST released.
The CAG has also highlighted the violation of accounting procedure in respect of the GST compensation cess.

Citing the opinion of the Attorney General of India, Finance Minister Nirmala Sitharaman told Parliament last week that there was no provision in the law to compensate states for loss of GST revenue out of the Consolidated Fund of India (CFI).

However, the Comptroller and Auditor General (CAG) of India has found that the government itself violated the law by retaining Rs 47,272 crore of GST compensation cess in the CFI during 2017-18 and 2018-19, and used the money for other purposes, which "led to an overstatement of revenue receipts and understatement of fiscal deficit for the year".

Source: Indian Express
This causes the states to question everything that is happening now.
Agriculture represents 14% of the Indian economy but sustains close to 42% of the population. This implies that there are a lot of farmers with small holdings and little in the form of negotiating power. The government passed a slew of farm bills that make it possible for corporates to buy directly from farmers. With whatever exposure I have with the sector, I consider this a good move. But given the precedents and how two companies seem to be carving up the country, the underlying intentions beg a question.
The MSP convention isn't foolproof, either. According to the 2015-16 agriculture census, 85% of the farm holding in India falls in the small category at less than 2 hectares. As such, the small farms have suffered because of the MSP system, because the farmers are net buyers of food produce, The Indian Express newspaper wrote on Sept. 20.

This, then, points to a certain trust deficit against the central government. Modi's government, for instance, changed export rules on onion 17 times between 2014 and 2019, hurting the economic interests of the farmers. Export rules for rice were changed 14 times during the five years ending 2019. Recently, on Sept. 15, it stopped the export of onions again to prevent domestic market prices from going up. The ban was eventually reversed on Sept. 18.

Source: Quartz
There was pandemonium in the Upper House of the parliament, the voting for the bill was undertaken through a voice vote, the dissenting members of parliament were suspended and the bill was forced through.
Punjab Chief Minister Amarinder Singh told reporters in Chandigarh on Sunday that the state would file a case in the Supreme Court against the laws, which he described as "anti-farmer".

Other parties have said that the laws are an attack on federalism. The Trinamool Congress and the Dravida Munnetra Kazhagam have accused the Centre of trying to usurp powers of the state governments by claiming that these are reforms.

Source: Scroll
There are threads that bind us together. We can test their strength from time to time but push it too far and those threads can break. In India they call them Naxalites and in the US, Anti-Fa; but these are just people whose trust you no longer possess.
The centre only has power because the states provide it to them. If the states refuse; there remains only one tool at the disposal of the centre - Armed Forces. There are plenty of examples of countries where it is wielded to hold onto power. None of them are prosperous.
Balance
About 5 years ago as 4G was on the rise, telecom companies realised that they will be eventually reduced to dumb pipes. SMS traffic was on a decline thanks to WhatsApp and the new breed of online services were reducing the number of phone calls being made. This only left data. 
How to monetise this data more effectively. 
The customer was already paying for it. What if we could get the originator to pay for it as well. Or make data used by certain apps premium like say WhatsApp. This would mean the cost of 1GB of data of WhatsApp use would be more expensive than 1GB of browsing Wikipedia. On the flip side if someone like Facebook pays extra to the telecom company to keep data for WhatsApp cheap or even free; the competitor, say Telegram, perishes.
This gave rise to the net neutrality debate. The argument - Internet is a necessity and many businesses depend on it. It should always be an equal playing ground for all. Many countries have sided with net neutrality. America under Trump has been dilly-dallying on it. There is a genius (Indian) at FTC who is always attempting to undo it. But I was glad to see TRAI take a definitive stance on it.
The Telecom Regulatory Authority of India (TRAI) on Tuesday (September 22) recommended to set up a multi-stakeholder body (MSB) to ensure that internet service providers in India follow the principles of net neutrality.

The MSB will be set up as an advisory body which would have representatives and stakeholders from all telecom and internet service providers, content providers, researchers from the academic and technical community, as well as the government but Department of Telecommunications (DoT) will still have the authority to punish net neutrality violations, the regulator suggested.

Source: Inc42
Given the power that Jio has been wresting in the Indian telecom landscape, this could not come a moment sooner.
Atmanirbhar App Store
I have spent a decade working with startups and often the challenge is not building a product, it is distributing it. I am not trying to play down how challenging building a product can be, I have tried and failed, I know. Even so, once the product is built you need to have the power to distribute it. 
Take Fitbit as an example. The company created the wearables category. They put together the best hardware and people loved it. Fitbit also was built direct to customer, selling their products through their own site. 8 years after Fitbit was founded, Apple launched the Apple watch and decimated its competitors. If you were to look at the wearable segment, Apple owns 90% of wearable revenues and also more than 50% of all premium watch revenue across the globe. What did Apple have that Fitbit did not? Distribution.
Apps became popular because of smartphones. Before that, there were perhaps 100s of software companies. Establishing a software company was a lot of work. If you wanted to start a game startup, it was not easy. App store made it incredibly simple for apps to be discovered. This led to 1000s of software companies being founded. A husband, wife and a designer could sit in a house and run a company that grossed millions of dollars each year and cut deals with Disney! I am sure you would have played their game - Temple Run.
A Decade of good work and the vultures are always hanging around to feast when everything is cooked. Epic started the drama a couple of months ago by trying to pull off a stunt with a game that was on its way to the graveyard. They explicitly defied a contract that they had with Apple. The judge did not side with them.
"Walled gardens have existed for decades," said the judge. "Nintendo has had a walled garden. Sony has had a walled garden. Microsoft has had a walled garden. What Apple's doing is not much different... It's hard to ignore the economics of the industry, which is what you're asking me to do."

Source: Verge
Unlike Apple, Google has been very lax at enforcing its own payment method and charging 30%. They changed their policy! It is perhaps important for them to do this at this juncture because Google is extremely dependent on ad income. Finding other sources of income makes it difficult to build an anti-trust case against them. Also, with this election guaranteed to be a dumpster fire, there is going to be a focus on all ad platforms after the dust has settled. 
In recent weeks, Google said that while platforms are allowed to use their own payment systems through websites, or other stores, they will have to pay a 30% fee if they choose to use Google Play. Several founders and developers termed the decision unfair, saying that it can hurt businesses in India.

Source: Mint
Just a few days before this decision, they had thrown Paytm out of the Play Store for having built a gambling product. It was essentially a game. A day later the app was allowed back. This pissed off Vijay Shekar Sharma to no ends and he was crying murder. Much whining ensued on Twitter. And then the Indian government came up with a surprise announcement on the 1st of October.
In a bid to make India Aatmanirbhar (Self-reliant), the Modi government is reportedly planning to launch its own app store as an alternative to Google and Apple's app store. ET Now learnt from sources that the government has decided that the country needs an alternative to Apple and Google's app store.

Government sources told the channel that C-DAC will build India's alternative to Google's Play store. The government believes that an alternative to Google Play Store is required to make India truly Aatmanirbhar.

Source: ET Now
I am sure all of those who were making noise on twitter have had to deal with the bureaucracy at some point. It is going to be a fun experience submitting the apps to the Atmanirbhar App Store.
Karma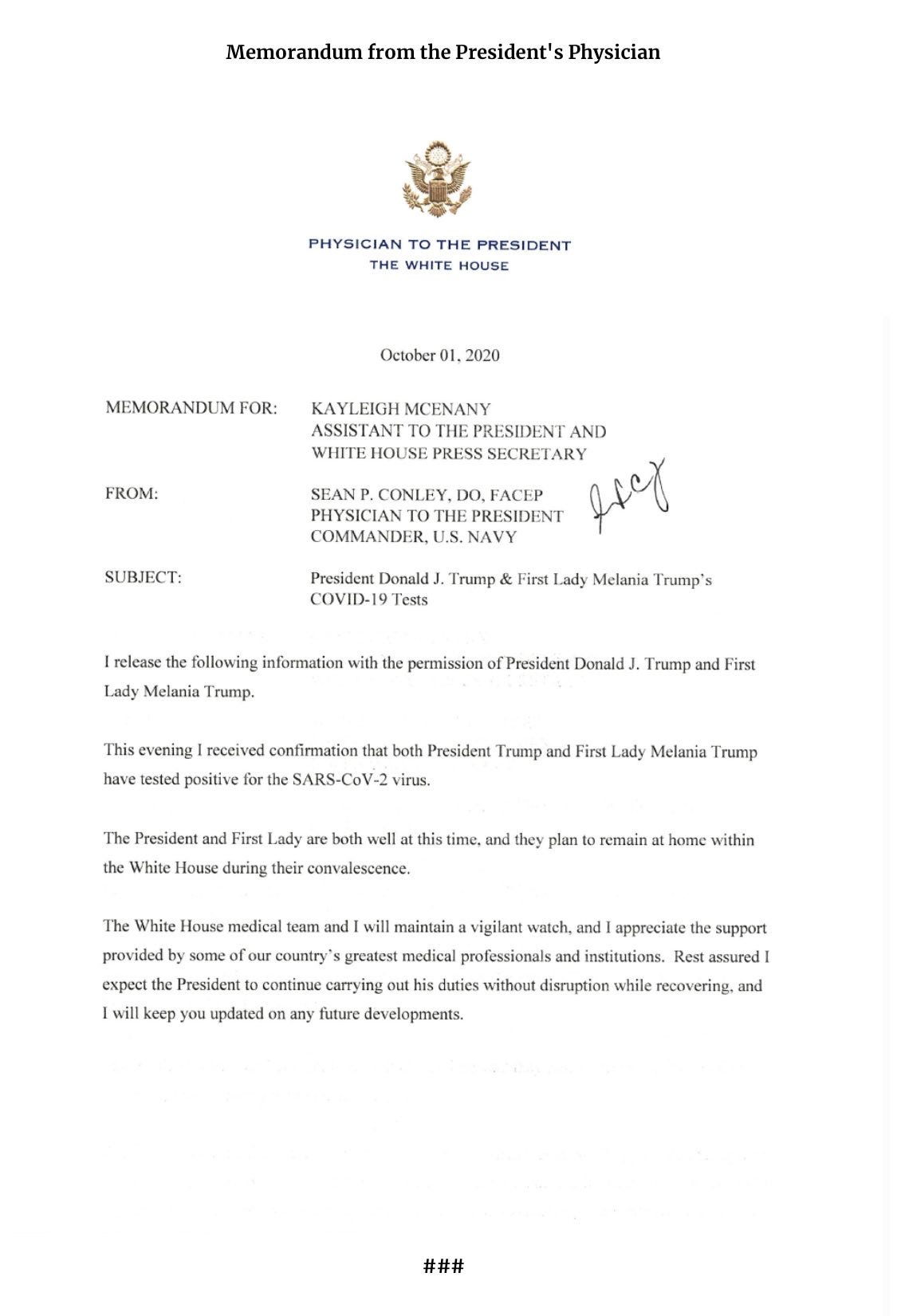 Also
The New York Times put out a scathing analysis of the income of the trump empire. And his taxes.
Irish court determined that what subway serves cannot be deemed bread. It has too much sugar to be bread!
Amnesty International was raided and got kicked out of India with all their assets frozen.
The first Presidential Debate 2020 took place and it was a dumpster fire. I am not even going to link to anything. You are better off that way.
Charlie Hebdo, which was attacked 5 years ago, went ahead and published the cartoon that had precipitated the attack - once again! With the French Open in progress, people heard a loud boom in Paris and the first assumption was terror attack!
After having delivered the first batch of Rafale jets to India, the French were wondering what the big deal was? Turned out they were just taking the craft out for a spin and broke the sound barrier.
---
You have come this far, so I assume you enjoyed reading this. If you are not subscribing but still want to know when Learning by Proxy drops; follow me on Twitter @viveksrn 
It takes me time to write this and if more people read it and comment on it, it encourages me, so please do share this post with anyone who might like to read it.
Signing off…