Discover more from Learning by Proxy with Vivek Srinivasan
For those who are curious about the things happening around the world. Living at the Intersection of Politics, Business, Technology and Economics.
Learning by Proxy | Climate>COVID
COVID has caused great disruption to the business. Climate is capable of causing far greater disruption. Capitalism has to reconsider itself.
COVID has had a huge impact on business in general. Some businesses have been heavily hurt while others not so much. Some are even thriving [healthcare; except in the US].
To me, this just seems like a glimpse of what is to come when the climate goes off the handle. Reminds of a cartoon.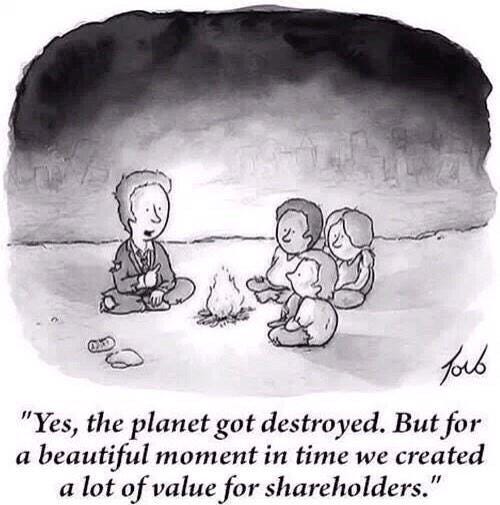 COVID and Business
There has been much said about the hit that several industries have taken in the aftermath of COVID. The numbers are not offering proof and an insight into what has gone on. Businesses that need people to come out; entertainment, travel and hospitality, which apart from being real world are also discretionary expenses, which is a double whammy.
Flying Markets
Just for Context - Bombay Stock Exchange is almost back to its pre-COVID levels.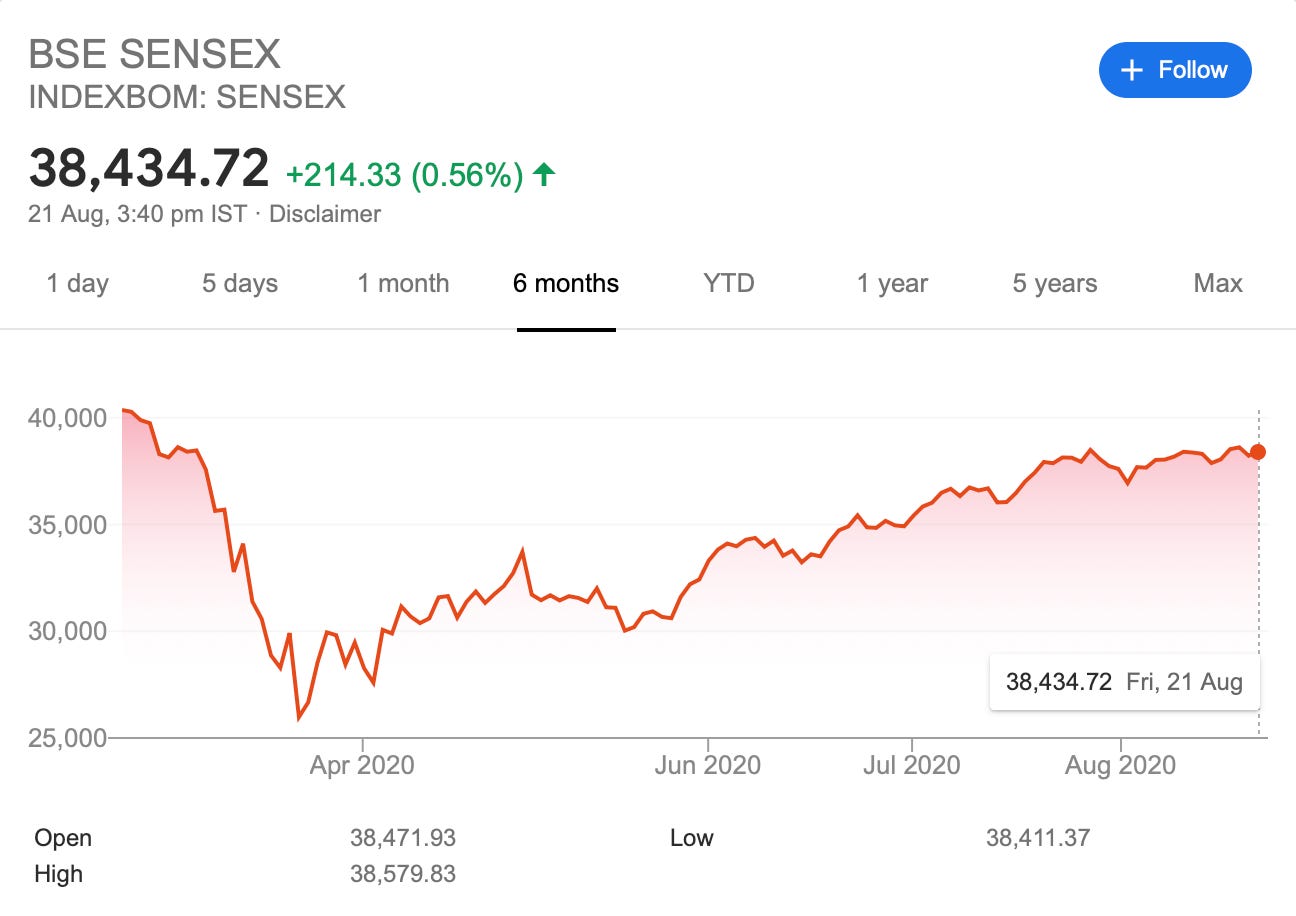 In stock markets, circuit breakers exist to avoid over steep rise or fall of share price in the stock exchange. When news breaks, often the markets do not wait to assimilate the impact of the news and react immediately. Circuit breakers stop trading in the stock if they are breached and give the market time to consider the impact before resuming. The markets have been so excited that the Bombay Stock Exchange has had to revise the circuit breakers for 647 companies from 5% to 20%.
BSE raised its circuit limits on as many as 647 stocks starting from Friday, including stocks such as Aavas Financiers, Adani Green Energy, Adani Transmission, Delta Corp, Centrum Capital, Eveready Industries and KPIT Technologies.

Source: Economic Times
Also, Dow Jones is back to its pre-COVID highs.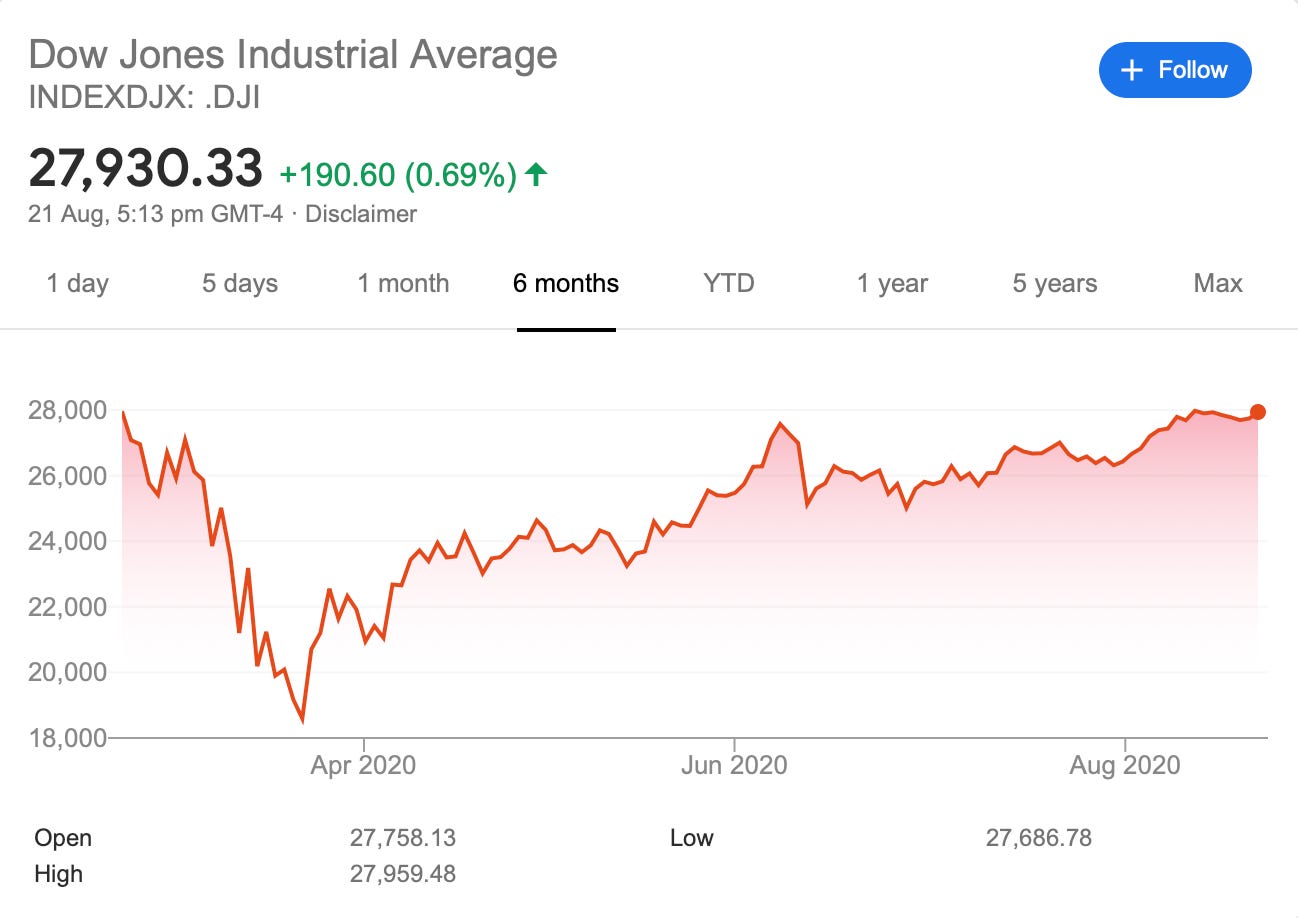 Let us see what the economy is like!
Cinema
I had mentioned in one of the earlier editions how PVR was seeking to tie-up with Swiggy to start delivering pop-corn! It is anticipated that the company would be reporting Zero revenue for the first quarter of 2020-21.
It's expected to be a very weak quarter for India's largest multiplex player PVR as theatres have remained shut for the entire Q1 and cinemas are expected to post near-zero revenues. The ET NOW poll estimates revenues to slump nearly 98% to Rs 20 cr and a loss of Rs 230cr for the quarter compared to a profit of Rs 16 cr last year. 

Source: Times Now
Aviation
While the cinemas have been closed completely, airlines have been flying in a spartan manner. International routes are still not open. It had already been reported that flight occupancy was down 95% in India. The revenue is equally down.
InterGlobe Aviation, IndiGo's parent firm, on Wednesday, posted a net loss at Rs 2,844.3 crore for the quarter ended June 30. It had posted a net profit of Rs 1,203.1 crore in the corresponding quarter last year.

Revenue from operations plunged 91.9 per cent YoY to Rs 766.7 crore during the quarter under review. The operations of airline companies were heavily affected during the quarter due to government orders.

Source: Economic Times
Even internationally sales have been lower, not to the extent that it has been India. Looking at the data from Flightradar24 it is clear the number of flights flown is still 25% below pre-COVID levels.

Source: Flightradar24

Source: Flightradar24
No Flights, No Travel
Moving across the country is not easy right now. People are not travelling much and this also means they are not staying anywhere outside their home. Imagine the condition of a business that helps people book these flights and hotels.
Online travel agent (OTA) MakeMyTrip has recorded a 95.5% annual fall in its revenues in the first quarter of the financial year 2021 due to pandemic and resultant travel restrictions. The company made just $6.4 Mn versus $141.7 Mn in the quarter ended June 30, 2019.

Source: Inc42
Hotels are having a tough time in India. There is a mandate to not cross 33% occupancy by the government. The trouble is that the hotels are nowhere close to coming to 33% occupancy at the moment.
Tata Group backed Indian Hotels Company (IHCL) has posted an 86% drop in its revenue from operations for the quarter ended June 30.

The hospitality chain posted revenue from operations of Rs 144 crore for the quarter under review compared to revenue from operations of Rs 1020 crore for the corresponding period of the last fiscal. IHCL posted losses of Rs 313 crore for the quarter ended June 30, compared to a profit of Rs 5 crore for the same period last year.

Source: Economic Times
Stock markets were trading IHCL up 5% because they claimed to have cut costs down by 51%. The kind of times that we are living in.
Restaurants
Restaurants have been shut but for a long time. Without the delivery volumes, they would probably have been in the same boat as the cinemas. Despite this, restaurants that do not have a strong brand presence don't seem to be doing too well.
According to the report released Wednesday, these restaurants are among the 83 per cent dine-outs that are currently non-operational. The remaining 43 per cent restaurants that are shut are likely to open as the situation improves.

"Out of the 83 per cent restaurants that are not open for business, 10 per cent restaurants have already shut down permanently… an additional 30 per cent restaurants might not reopen at all. The remaining 43 per cent, which are closed right now, are likely to open as the situation becomes better," said the report.

The rest of the dining industry is operating at just 8 to 10 per cent of the gross merchandise value (GMV) from earlier levels pre-pandemic levels, it said.

Source: The Print
The idea of taking stock of many parts of the economy in this manner came up because Zomato had released a report card with some interesting insights. They work with many of the restaurants across cities and what they have been seeing is orders coming in from smaller cities. People are moving back to their hometown and bringing their city habits with them!
Real Estate
Real Estate is probably the hardest hit of all. Malls and other commercial buildings have been required to write off their rentals. Sales of property have slowed as the work from home trends seems to be certain to last months if not years. Many have taken to moving back to their hometowns. The bottom is falling out.
Realty firm Prestige Estates Projects has reported a 99 per cent decline in its consolidated net profit at Rs 1.6 crore for the quarter ended June on lower-income amid coronavirus pandemic. Its net profit stood at Rs 115.3 crore in the year-ago period.

Total income fell to Rs 1,296.3 crore in the first quarter of 2020-21 fiscal from Rs 1,567.4 crore in the corresponding period of the previous year, according to a regulatory filing.

Source: Economic Times
DLF, India's largest real estate company saw its income fall by 65%.
Retail
The USA has seen a string of bankruptcy filings from various retailers with the pandemic exposing gaps in their operations. Amazon had already cut out gaping holes in their businesses. Already 26 Bankruptcies have been filed, you can find the list here.
India is doing no better.
Non-grocery categories have seen their businesses take huge losses and what is even worse is that with the 'work from home' trend, the demand is quickly shifting away from many of their products. Suitings companies have been struggling to find any demand for their clothing. Trent which runs Westside, which is not so much in the formal category also took a big hit.
When Trent Ltd announced its March quarter results (Q4FY20) in May, the initial signs of COVID-19 disruptions were visible. After all, stand-alone revenue growth had slowed to 8% in Q4FY20 from around 30% in the previous three quarters.

With the lockdown remaining in place for a good part of the June quarter, Q1FY21 results showed a much more pronounced impact of the pandemic crisis. Revenues fell 87% year-on-year to ₹96 Crore, below analysts' estimates. The lockdown forced Trent to close its retail stores for a major part of the quarter.

Source: Mint
Healthcare
In India, hospitals have been doing quite well. They have also been using this occasion to scalp the patients and maximise their income. The stories that one gets to hear from anyone who has had the misfortune of having to visit a hospital are grim. Beds that would have normally cost Rs. 7000 a night are now being charged double.
Besides the one-time gain, Apollo Hospitals' operational performance was strong, with revenue up 17% at ₹2,922 crores, while earnings before interest, tax, depreciation and amortisation (Ebitda) up 36% at 380.1 crores.

Standalone hospital business of the firm showed a 19% increase in revenue, while that from its pharmacy operations was up by a third.

Source: Mint
Climate
A system that moves between highs and lows is said to be showing volatility. The deviation that it shows from the mean is called Amplitude. If the amplitude is too high it can be catastrophic for the system. Every bridge moves a little up and down in the wind. It just cannot go beyond a certain amount, illustrated by the bridge below.
The climate of this planet has been undergoing a similar swing in recent times. The system might break! You would have often heard people say that we are - Killing the planet - No, we are not. The planet is not dying. 
We are.
California has been burning since last week and this has become a regular thing. There was a lightning storm that caused the parched earth to catch fire. The land was so dry, the fire spread incredibly fast. While the elections have been taking the spotlight, America has been suffering one of the worst droughts in history.
As the United States moves into the last weeks of climatological summer, one- third of the country is experiencing at least a moderate level of drought. Much of the West is approaching severe drought, and New England has been unusually dry and hot. An estimated 53 million people are living in drought-affected areas.

Source: NASA
On the other side of the world, rainfall has been at record levels. All the states on the Gangetic plains in India have been submerged. It started with Bangladesh getting flooded. Bangladesh floods every year just like California burns each year, so nobody noticed. After the flooding of Assam and West Bengal, the flooding is making its way to Uttar Pradesh and closing in on Delhi.
Millions have been forced to flee their homes in Bangladesh because of floods triggered by monsoon rains.

The flooding, which has affected almost one-third of the country, shows no sign of abating due to continuous rain.

Most of the country's 16 rivers have overflowed - and according to local media reports, the torrential downpours have left at least 161 people dead.

Source: Sky News
According to a tweet by the chief minister's office, posted on 18 August, the floods have affected 838 villages in these districts—which include Ambedkar Nagar, Azamgarh, Deoria, Gorakhpur, Kushinagar, Mau and Sant Kabir Nagar—and of these, 520 are submerged. In previous tweets, the CMO noted that multiple rivers, including the Ghaghara, were flowing at dangerous levels. 

Source: Caravan Magazine
In the meantime, the west coast has also been at the receiving end. Mumbai had to be shut down a couple of weeks ago due to torrential rainfall which left the city submerged. Again, Mumbai is a city is often underwater so people did not bother much, but then…
Seven people were killed in rain-related incidents in Gujarat over the weekend as intense spells caused flooding and water-logging, prompting the government to deploy 13 teams of the National Disaster Response Force in the state, officials said on Monday.

Source: The Wire
Further south, the states of Karnataka, Andhra Pradesh. Tamil Nadu and Kerala have also been receiving huge amounts of rain forcing them to release water from their dams. This causes villages downstream to get flooded since they are inundated with rain already.
Across the Bay, heavy rains are lashing Bangkok which is causing flooding and further scare of an increase.
Provinces in the lower part of the northern region are braced for flooding after downpours have submerged several areas for several days.

Chamnan Chuthing, director of the irrigation project in Phitsanulok, said on Sunday it was diverting water from the Yom River to tributary canals as it expected more water from the river to reach downstream provinces -- first in Sukhothai and later Phitsanulok -- by Sunday.

Source: Bangkok Post
Meanwhile in China
Water levels at China's giant Three Gorges Dam on the Yangtze river are inching closer to their maximum after torrential rains raised inflows to a record high, official data showed on Friday.

Source: Reuters
There has been flooding around the dam in China - A video from Al Jazeera
Meanwhile in Africa
After long-running drought slashed their harvests, small-scale farmers in Lupane, western Zimbabwe, decided to switch away from irrigating their fields by flooding them, which wastes huge amounts of water.

Source: Deccan Herald
This is the majestic Victoria Falls, which spans nations.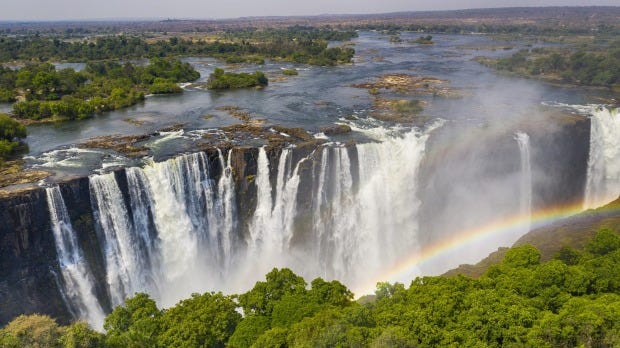 This is as of December 2019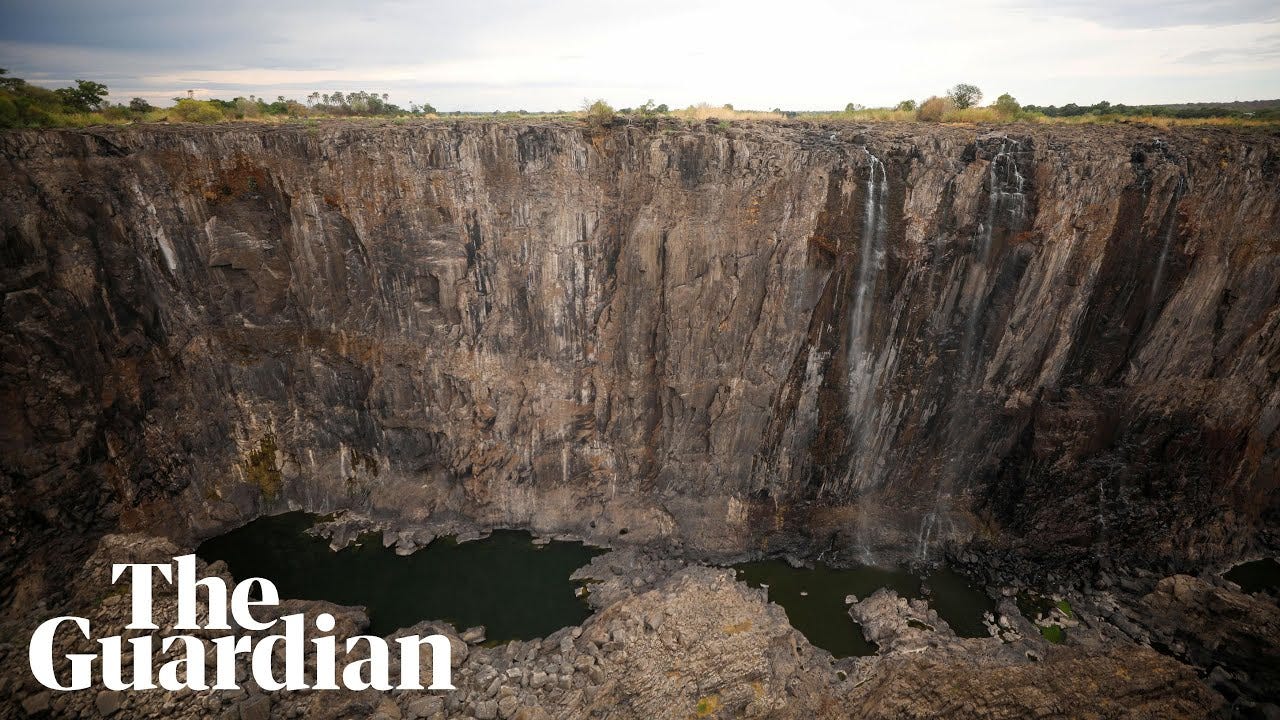 What do you think, when you think Afghanistan? Mountains, goats, Taliban, American turning another country into a shooting range, cold weather, snow, wonderful spring; but you never think floods. 
When the heavy rains came overnight, setting off flash floods in northern Afghanistan, the deluge quickly turned deadly and caught many residents off guard because they were sleeping.

On Wednesday, a hospital official said the floods had killed nearly 80 people and injured scores of others in Charikar, home to nearly 200,000 people and the capital of Parwan Province, just north of Kabul.

Source: New York Times
Now, this is not news collected from across time. This is all news from the last 3 weeks. As I write this the government of Indonesia has deployed the Army to prevent forest fires as drought peaks. Northern Turkey lost lives due to flash floods. While California is burning, Utah is flooded and Stanton is flooding. In the meantime, people in Californians are watching their homes burn as the fire scorches the land. Meanwhile, 2 hurricanes have made land in Louisiana and will rip through several states. Meanwhile, in Delhi, the Yamuna is at dangerous levels and there is a high likelihood of flooding.
Politicians have a way of confusing weather with climate, it is not the same. This GIF illustrates the difference.
The amplitude is increasing, slowly but surely. When will this system break? More importantly, what will that look like?
And you thought COVID was disruptive.
Assets and Loans
When the lockdown started, the first action that the RBI took was to infuse more liquidity to the lenders to avoid a collapse. The moratorium that was offered to help individual and businesses to tide through this period is about to come to an end on the 31st of August. The most optimistic estimates are that there will be Millions of defaulters. Indian banks have been struggling to reduce their NPAs for the past few years. There seems to be a plan.
The company says that the multi-year empanelment, renewed every five years, will leverage Quikr Realty's builder relationships across 22 cities and 4800+ brokers in its network to oversee real estate e-auctions. Quikr says that the transaction mandate includes stressed properties worth more than INR 7,000 Cr.

"This is the second stint of empanelment of Quikr Realty by SEBI for valuation & liquidation of Stressed Assets. Quikr Realty's earlier associations with SEBI included liquidation of Pearls Agrotech Corporation (PACL), Sahara and Unitech assets," the company says. 

Source: Inc42
I would not surprised if RBI decides to empanel them to liquidate all of the asset-backed loans that go into stress.
Also
I have to thank Salma for sharing this insanely great ad by Mercedes Benz.
The moon waxes and wanes. Have you ever thought about how the earth waxes and wanes on the moon?
Signing off…