Discover more from Learning by Proxy with Vivek Srinivasan
For those who are curious about the things happening around the world. Living at the Intersection of Politics, Business, Technology and Economics.
Learning by Proxy | China
You can piss off some of the people some of the time, you should not piss off all of the people all of the time.
This edition became insanely long. I going to have to take some of the stuff that happened this week and move it to the next edition. Something significant is afoot in China and its relationship with the rest of the world.
As a kid, I used to love cricket. Now and then there would be these matches where India would play a team that represented the Rest of the World. All without exception were exhibition matches, but there was a thrill associated with it. If we won, we got to beat the whole world in a single match. The best from every country.
China is increasingly taking a position where it looks like China (and some crook states) Vs the rest of the world (not that there are no crooks here). How it will end is anybody's guess, but the tension is building.
The biggest participants of the first world war were France, Britain and Germany, but it started in Sarajevo with the assassination of Franz Ferdinand. The world is a tinderbox right now. A random spark can set it ablaze.
Shifting Sands
Japan was considered a manufacturer of cheap transistors in the 1960s. Their products were considered low quality. Fast forward to 1980s, getting a Sony was a mark of buying a high-quality product. China went through a similar cycle. Even a decade back Chinese products were considered cheap and low quality. The last decade has caused a huge pivot in perception. Along with that pivot, a lot of product manufacturing moved to China. 
Being at the epicentre of the manufacturing revolutions made Japan the economy it became. From the ruins of Hiroshima and Nagasaki emerged a nation that was revitalised and more powerful economically. The same happened with China, from being a hopelessly poor agrarian economy, they became the second-largest economy in the world. With the newfound power and money, there are new problems that are emerging.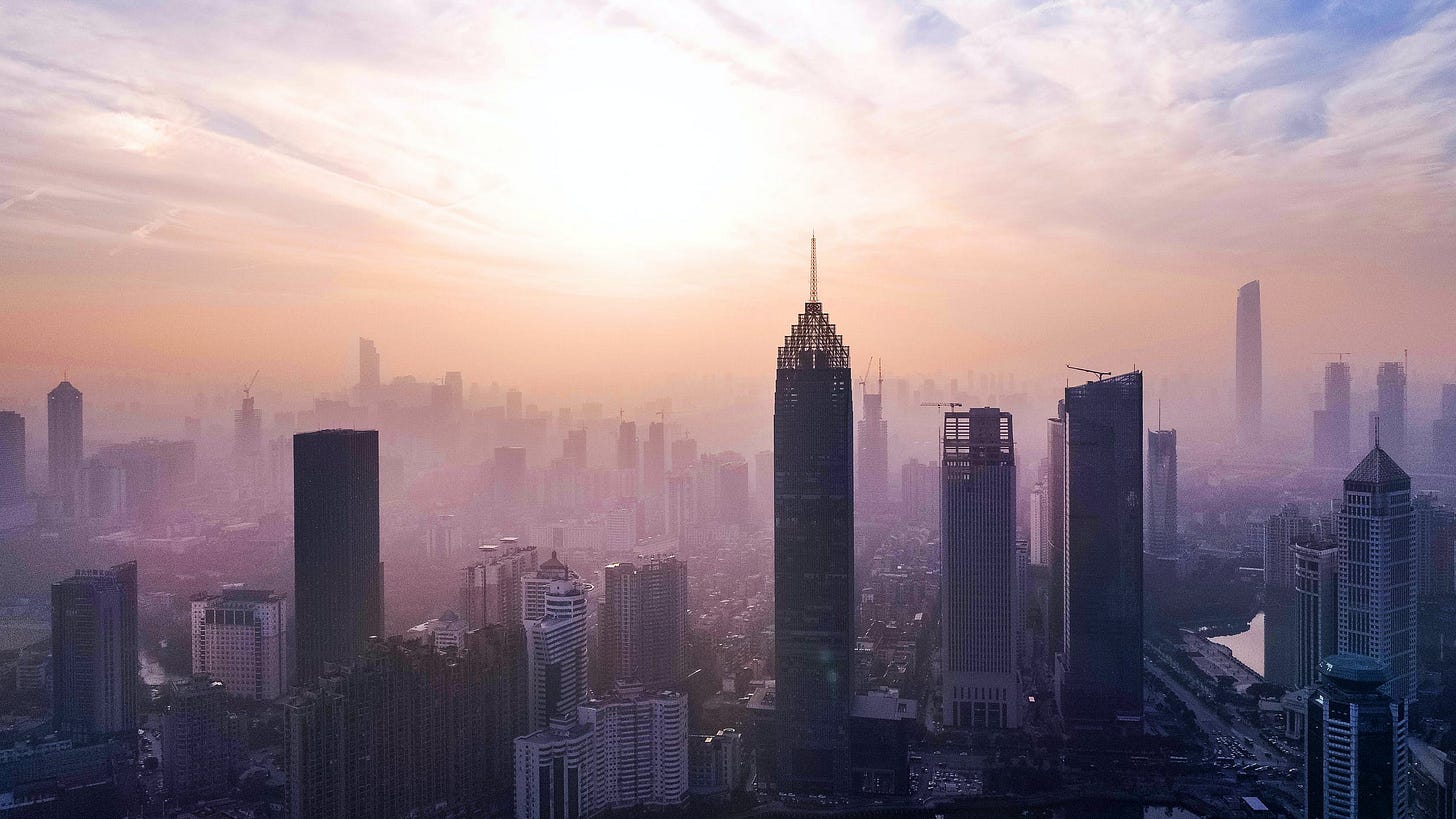 Where does China end? (Physically)
China has always had a different interpretation of where its borders end. China seems to think all of the South China Sea belongs to it. The reason the South China sea is important is because of its strategic value to trade. The countries involved in this dispute include - Japan, Vietnam, Philippines, Malaysia, and Borneo. By extension of the fact that the US is responsible for the safety of Japan as per the treaty to end World War II, they are also involved.
--
Hong Kong has been burning for the past 2 years. China is not used to defiance by its citizens. Further, they cannot afford for this spark to spread to the mainland. A lot of money and power will be at stake if that does happen. Hence the clampdown on Hong Kong.
--
China has had border disputes with India for the past 60 years. They continue to claim that land on the Indian side. This has led to a war-like situation at the northern border. For China, Aksai Chin which they occupied over 60 years ago is important to keep their control over Xinjiang. The road from Tibet to Xinjiang passes through Aksai Chin.
The northern army commander, Lt Gen. Y.K. Joshi, on Saturday said the army would "continue all efforts to restore status quo ante along the LAC", the statement assuming significance against the backdrop of the no-intrusion claim by Prime Minister Narendra Modi.

This is the first time an army commander has officially spoken about "restoring status quo ante" along the Line of Actual Control, which entails that the Chinese have occupied Indian territory.

Source: The Telegraph
They have also been having disputes with Bhutan
China is stepping up pressure on Bhutan to settle their bilateral border dispute. In addition to laying claim to more territory in Bhutan, Beijing has revived an old land swap deal that will require Thimphu to cede control over the territory to settle its border dispute with China.

Source: The Diplomat
Pandemic
There are a lot of tall buildings in China, but there is no Trump Tower in China. Also unlike Moscow, Beijing never wanted one. So Trump has been quite pissed with China right from the outset. Despite berating them for years, he did not have anything that he could really hold against China given the American dependence on China for manufacturing.
COVID-19 provided the perfect segue to turn against China and also get all of the "allies" to turn against China as well.
China made things worse
China had been giving away loans across Africa because Africa was seen as the next big thing. The idea was not to help them develop, the idea was to trap them in debt. This became obvious when they squeezed Sri Lanka for the port China had financed. Sri Lanka could not repay the debt and ended up handing over the port. There is a Wikipedia article on this - Debt trap diplomacy. 
The total loans outstanding from China come up to USD 600 Billion.
There is a global (especially western) push to forgive African Debt. This is deeply motivated by other considerations and China has said - No.
—
Also, when the pandemic began, and a lot of countries rushed supplies to China.
A total of 21 countries and the United Nations Children's Fund have donated epidemic prevention and control supplies to China, a foreign ministry spokesperson said Wednesday.

Those countries are the Republic of Korea (ROK), Japan, Thailand, Malaysia, Indonesia, Kazakhstan, Pakistan, Germany, Britain, France, Italy, Hungary, Belarus, Turkey, Iran, the United Arab Emirates, Algeria, Egypt, Australia, New Zealand, as well as Trinidad and Tobago, spokesperson Hua Chunying said at an online press briefing.

Source: Xinhuanet
A couple of months later when those same countries needed supplies…
Countries' procurement agents are fighting each other in China for access to the protective equipment that must play a key role in stemming the spread of the novel coronavirus, German Health Minister Jens Spahn said.

He was responding to a spate of reports of consignments of protective masks destined for European countries being bought up by United States officials, sometimes even as aeroplanes stood ready for departure on the tarmac.

Source: Reuters
Hanlon's Razor - Do not ascribe to malice what can often be ascribed to incompetency. Even so, the mind looks for a more complex explanation.
In this context
Hong Kong is an important port through which a lot of capital moves. The Chinese take over of Hong Kong has hurt the financial interests of rich people in several countries. There is no better way to attract the ire of nations than hurt the rich. The policy, for now, seems to be to hurt China economically.
Huawei is a Chinese company which has played a crucial role in the development of telecom infrastructure across several countries. The next couple of years were supposed to be windfall years with the introduction of 5G. Hurting Huawei means hurting China. The UK which is going to embrace Brexit screaming and yelling at the end of this year fired the first shot!
Culture secretary Oliver Dowden told the House of Commons that UK mobile providers will be prevented from buying Huawei 5G equipment after December 31 under a revised telecommunications bill that the government will table for a vote in the fall. Dowden also announced that providers with Huawei kit in their networks must remove it by 2027.

Source: Quartz
Australia in the meantime is heavily dependant on the Chinese import of ore. Mining is a huge contributor to the Australian economy and China is the biggest trading partner. Even so, in a world that is rapidly changing, it is important to pick sides.
Australia has declared "there is no legal basis" to China's territorial and maritime claims in the South China Sea, marking an escalation of recent tensions with Beijing and bringing Canberra further in line with Washington.

Source: The Guardian
India which is even more hopelessly dependent on China banned TikTok and 58 other apps. This is by far the most inconsequential push back. But you know how they say - an enemy of an enemy is a friend. Not only that, but there are also three Trump Towers in India.
The two countries have been working quietly to step up information sharing amid the tense military standoff between Indian and Chinese troops — it has been on for 11 weeks now — along the Line of Actual Control in Ladakh.

After US Secretary of State Michael R Pompeo spoke to External Affairs Minister S Jaishankar in the third week of June, at least two high-level phone conversations, the key to this cooperation, have taken place.

Source: Indian Express
and
India and the US are close to inking a "quick" trade deal, Commerce Minister Piyush Goyal said Tuesday, adding that the pact aims to get issues that have been pending over the past couple of years "out of the way".

Source: Indian Express
The USA also has banned Huawei. In addition to that, there has been heavy rhetoric. That rhetoric translated into action finally. The US government forced the Chinese Consulate at Huston to shut down. Why? The claim was that espionage operations were being run from the consulate. The Chinese diplomats were burning files outside the consulate causing local emergency service to respond to the smoke. And then…
US officials prised open a small back door having previously tried to gain access via three other entrances. The consulate was ordered to close on Wednesday by the Trump administration which said it was seeking to protect American intellectual property.

Source: Express
And then
Beijing ordered the US embassy to close on Friday in a tit-for-tat move, after Washington instructed China's consulate in Houston, Texas, to cease operations, claiming it had been involved in a US-wide Chinese espionage effort.

Source: CNN
From the perspective of manufacturing -
Entire nations and their governments are questioning their excessive dependence on Chinese manufacturing. Scores of companies have been instructed and have already started moving production to other countries. Production of strategic importance like pharmaceutical and electronics are being moved to home countries. TSMC, the largest contract chip manufacturer, was given Billions by the US government to set up production in Arizona.
A Gartner, Inc. survey of 260 global supply chain leaders in February and March 2020 found that 33% had moved sourcing and manufacturing activities out of China or plan to do so in the next two to three years. Survey results show that the COVID-19 pandemic is only one of several disruptions that have put global supply chains under pressure.

Source: Gartner
Reliance boss Mukesh Ambani, announcing the partnership at his company's annual meeting last week, said Google would build an Android operating system (OS) to power a low-cost "4G or even 5G" smartphone that Reliance would design.

Source: Mint
Most importantly pharmaceuticals
But this grant was different. It went to a Richmond, Virginia-based public benefit company that was just seven months old. Before the pandemic, it hadn't manufactured any drugs, although its founders were pharmaceutical veterans.

The company, named Phlow, isn't tasked with making new drugs against Covid-19. Instead, its goal is to shore up the US supply of generic drugs.

Source: Quartz
Adding salt to injury
China's economy had its first contraction in decades thanks to COVID. After a decline of 6.8% in the first quarter, the economy seems to be back to growth posting a 3.2% growth in the second quarter of the year.
China's economy grew 3.2% in the second quarter following a record slump.

The world's second-biggest economy saw a sharp decline in the first three months of the year during coronavirus lockdowns.

But figures released on Wednesday show China's Gross Domestic Product (GDP) returned to growth between April to June.

Source: BBC
But here is the thing, Retail consumption is lower than it was pre-COVID. So internal consumption is low. Externally, every large economy, esp. the USA has been struggling with the effects of COVID. So the consumption is not coming from outside either; then how? It is a result of government spending. This was the original recipe that worked for China. But given that they are a much larger economy, with a highly developed infrastructure and a global economy which is stagnant at best; how long can they keep bankrolling it? Also, if the spending is on infrastructure what do they plan to build?
And the final nail in the coffin. China seems to be poised to have its own Lehman Brothers moment.
Losses at global banks are projected to soar by $926 billion to $2.1 trillion through 2021, according to Standard & Poors. Almost $400 billion of that increase is forecast to come from Chinese institutions, compared with a $360 billion increase for those in North America and Western Europe combined. While an impending wave of soured loans isn't expected to cause a credit crisis, the forecast demonstrates the economic pain that's anticipated from heightened unemployment and bankruptcies.

Source: Quartz
Fallout
The excessive nationalistic push at a time of great global economic instability is not helping China. If at all anything, it has helped galvanise opposition to the country. Even countries like Australia who are tied up in a lot of trade are pushing back.
The sands are shifting and we do not know where and how this will end. The one thing that is for certain is that many of the squabbling global powers - US, India, EU, Britain and Australia (mostly thanks to Trump) are seemingly uniting due to their hatred of China. In 6 months there might be a new president in America.
The sands are definitely shifting!
Indian Monsoon
Monsoon is very important for India because agriculture depends on it. This year the north-western branch of the monsoon has arrived with great fury. The winds carry moisture from the Bay of Bengal and move towards the north-east till they meet the Himalayas. From there they follow the Himalayas as the wind turns to move the clouds westwards delivering rains along the way. What started as heavy rains in Assam, turned into flooding and now has turned into a catastrophe.
"Since the first week of June, we are having no respite with wave after wave of flood that has wreaked havoc inside the Kaziranga National Park and Tiger Reserve," said Kaziranga's park director, P. Sivakumar. He said an animal that had drowned in a swollen river near the park on Saturday brought the death toll of the endangered rhinoceroses up to 10.

Source: New York Times
Now as the monsoon clouds move westwards, it's claiming more victims. 
Floodwater entered one more district of Samastipur in Bihar and spread to more inundated areas, hitting half a million more population on Tuesday, even though no fresh casualty was reported and the count remained at 10, an official bulletin said.

According to the bulletin by the state Disaster Management Department, more than 5 lakh people were affected by floods on Tuesday alone, taking the tally of marooned people to 29.62 lakh in 12 districts of the state.

Source: NDTV
It remains to be seen how far this monsoon rage continues. UP, Haryana and Punjab are very important to the food production in the country and if flooded especially at this time, it could turn into an unmitigated disaster especially since the economy is already reeling.
When you see it
Donald Trump had expected to head into the elections with a great economy, unemployment at historic lows and a great platform. Instead, his Attorney General is being questioned on the hill, unemployment are at historic highs (only the great depression saw worse unemployment) and a GDP decline of 10%. The US economy has contracted by 1.8 Trillion dollars! Yes - perspective - add a Trillion to that - India's GDP.
Gross domestic product — the broadest measure of goods and services produced — fell 9.5 per cent in the second quarter of the year, the Commerce Department said Thursday. On an annualized basis, the standard way of reporting quarterly economic data, G.D.P. fell at a rate of 32.9 per cent.

Source: New York Times
Another way to looking at it. The US economy lost a shade more than the Market Capitalisation of Apple (which posted blockbuster results last quarter). (~1.75 Trillion)
One of the stories last week was titled - Spending is back to normal for poor Americans—but not for rich ones. 
Research shows that when low-earning families lose income, they do substantially decrease how much they buy. So it's not that poor Americans are going into credit card debt to keep up their spending. Rather, economists have found that the US government's stimulus payments and enhanced unemployment insurance have kept many low-income families afloat.

Source: Quartz
To me, this fact only indicates how little the poor have for discretionary spending. They are surely not going to be buying anything that is not absolutely necessary when they are living on doles. Turns out their lives were the same as living on a 600 dollar cheque even before COVID!
Simply put, rich people spent 1.8 Trillion less.
—
No sooner was this data released, Trump tweeted that the elections needed to be postponed! To which Mitch McConnell said, "Never in the history of the country, through wars, depressions and the Civil War, have we ever not had a federally scheduled election on time, and we'll find a way to do that again this Nov. 3,"
The illusion of democracy is the only thing America has going for itself. If that illusion falls apart, there would not be much that is different between America and Russia.
Raising Capital
Now that Mukesh Ambani and Reliance have tasted blood, they can't stop coming up with fundraising ideas. A while ago, Amazon had bought up stakes in Kishore Biyani's Future Retail, which had been saddled with debt. In the aftermath of Facebook, Microsoft, Google investments in Jio, Amazon felt left out. 
Jeff Bezos called Mukesh Ambani and said 'aisa kyun bewafa?' (why this unfaithfulness?). 
Mr Ambani promptly asked - you got money? 
Jeff said lots - I have so much money that the only way I can blow it up is building spacecraft and destroying Flipkart.
Mr Ambani - I might have something else you can blow it upon…
Rumours are that Amazon is going to buy 9.99% of Reliance Retail. Now some corporate juggling is taking place to bring Future group under the same umbrella.
Mukesh Ambani's Reliance Industries Ltd will pay between Rs 24,000 crore and Rs 27,000 crore ($3.2-$3.6 Billion) to buy the Indian retail chains owned by Future Group 

Source: ToI
The Antitrust people are looking on the wrong side of the Atlantic. This is just wrong. The Confederation of All India Traders has been going to court and making a ruckus about Flipkart and Amazon, where are they when they have to fight?
Rise and fall of the OTT
Since we are talking about the Atlantic. Recently Apple acquired the Tom Hanks movie 'Greyhound'; a World War II story from the middle of the Atlantic. The movie is said to have cost USD 50 Million. Given that the year is a bust and going to the theatre does not make any sense, Mr Hanks sold it to Apple. But what about movies that are made with budgets of hundreds of millions of dollars? No OTT player would buy it! What then?
Paramount Pictures announced yesterday it is delaying the releases of two highly anticipated blockbuster films again—this time until 2021. A Quiet Place: Part II will move from Sept. 4, 2020, to April 23, 2021, while Top Gun: Maverick will eject out of its Dec. 23 date and now land on July 2, 2021. Both films had already been postponed from their original release dates this summer.

Source: Quartz
Signing off…