Discover more from Learning by Proxy with Vivek Srinivasan
For those who are curious about the things happening around the world. Living at the Intersection of Politics, Business, Technology and Economics.
Government - #MakeInIndia - Cars | Learning by Proxy
Every Saturday, I publish this series called 'Learning by Proxy'. It is a capsule of some of the stuff that I found interesting over the week along with some context to it. I hope you enjoy it.
Politics
When your government turns against you…
Center raises duty on Petrol by Rs. 10 and Diesel by Rs. 13. Where every other nation is talking stimulus, the Indian government is profiteering.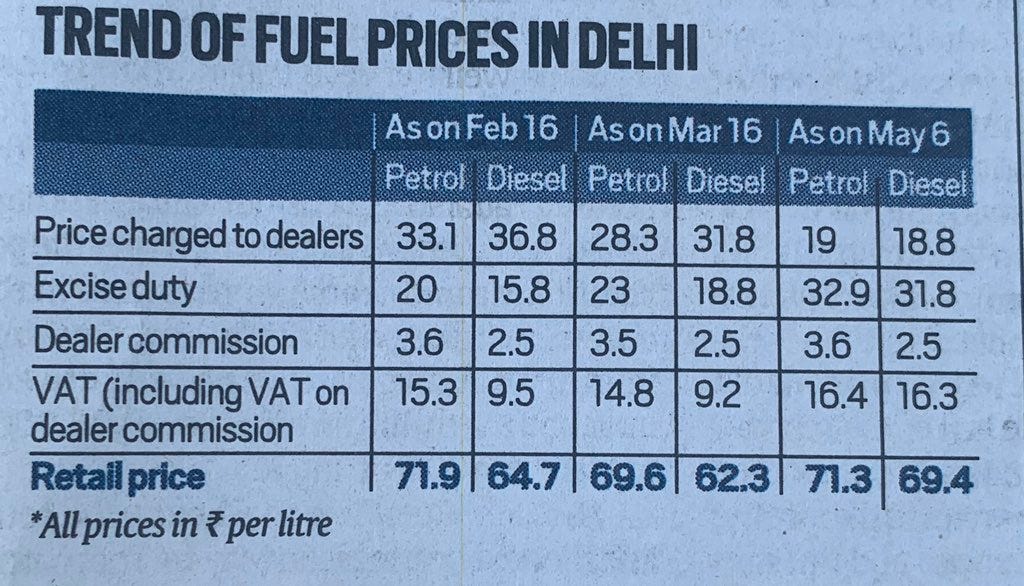 What are we paying?
Almost Rs. 50 out of the Rs. 71 per litre going to the government! Imagine 3 of you go to a restaurant, order food worth 2000 rupees and get a 7000 rupee bill.
—
Despite several pleas by liquor manufacturers as well as States (because tax money), the Centre did not allow for home delivery of liquor. This resulted in unforeseen crowds at liquor stores when restrictions were lifted. There was a jump of 4000 fresh cases recorded on the very same day - 4th May. This was unnecessary. Squandering all the gains made over the past 6 weeks of sacrifice - India started the week with a shade more than 40,000 cases and will probably exit it with 60,000 cases.
—
Earlier in the week, I had written a blog about the suffering, the Real Estate Industry has to brace for, as migrants leave not to return in the short term. Right on cue -
The Quint has accessed a letter written by N Manjunath Prasad, nodal officer for inter-state travel from the state, claiming that no more trains are required. Referring to an earlier letter requesting three trains on 6 May, the officer said that the service is no longer necessary.

A senior government official said that even though no reason was given for withdrawing the train services, the decision was taken following a meeting with the representatives of Confederation of Real Estate Developers Associations of India (CREDAI).

Source: Quint
They are being held, prisoners!
Long after COVID is gone, we will be eternally be in shame on how we treated our migrants.

Or maybe not, we have become such soulless people https://t.co/lDRvANnp5n

— Rajesh Sawhney (@rajeshsawhney) May 7, 2020
Update - Under pressure, the Karnataka government decided to take back its decision to hold migrants, prisoners, for the sake of builders. Trains are running again.
Economics
Coming Clean
One of the good things about COVID-19 is that the Government of India can start telling the truth about the state of the economy. Since demonetisation India has been struggling. The government has been playing with the data - first changing the base year for calculation for GDP growth, then undermining reports by the Central Statistical Organisation as well as the National Statistical Commission. Just Google - 'India GDP Fudge'. Raghuram Rajan himself as RBI Governor raised the issue several times.
Now they say 8 Core industries shrank 6.5%
"Despite some easing in industrial activities by the government, post-April 20, the production activities have remained muted with labour shortages and other issues. As a result, in April 2020 we may see a further contraction in eight core sectors and the industrial output," said a CARE Ratings report released after the data was published.

Source: Quartz
And I still see some people forecasting low single-digit economic growth for the year. I don't know who they are trying to fool - hopefully, themselves.
Make in India
If ⬆️ then ⬇️
India has put aside land twice the size of Luxembourg for the purpose of driving investment in production. The government obviously wants to use the hate that China is getting and bring as many manufacturing plants to India as possible. One of the main reasons China was able to move production to their country and bring so many businesses to its shore was because of its iron-fisted approach. The country was able to make land available and get factories chugging real quick.
A total area of 461,589 hectares has been identified across the country for the purpose, the people said, asking not to be identified because they aren't authorized to speak to the media. That includes 115,131 hectares of existing industrial land in states such as Gujarat, Maharashtra, Tamil Nadu and Andhra Pradesh, they said. Luxembourg is spread across 243,000 hectares, according to the World Bank.

Source: Economic Times
Do you remember POSCO? What was missing? The Iron Fist.
Here it comes.
Even as India is just coming out of a nationwide lockdown due to the novel coronavirus, the environment ministry is considering large scale mining, infrastructure and industrial projects for environment, forest and wildlife clearances by hosting video meetings of its expert panels. This is despite the expert panels admitting that time available for considering some of these projects is "very less" and in some cases just about 10 minutes per project.

…

People affected by projects, who don't have ready access to the internet would be unable to send representations or documents to the EACs. "In the past, these submissions have been crucial for the EACs to ask for critical studies and ensure safeguards even if a project is approved," said Kanchi Kohli, a senior researcher at the Centre for Policy Research in New Delhi.

...

There is perhaps a motive to clearing projects during a health emergency, Mohanty said. "People are busy, and not in a position to file objections."

Source: Quartz
Business
Jug jug Jio
As Reliance entered March they needed money bad! (If you want to know why - click here) They had several on-going conversations and Facebook came through. Not only did they come through; they came through in style. Overnight, Jio was valued at USD 65.95 Billion. So what do you do when you have 40 Billion in Debt?
Tell a story and start printing shares! Reliance is planning to sell another 10% of Jio in the coming days.
American private equity firm Silver Lake has invested Rs 5,655.75 crore in Mukesh Ambani-owned Reliance Industries' Jio Platforms. The deal comes less than two weeks after Facebook made an investment of $5.7 billion to buy a minority stake in Jio. The investment by Silver Lake values Jio Platforms at an equity value of Rs 4.9 trillion and an enterprise value of Rs 5.15 trillion, and represents a 12.5% premium on the equity valuation of the Facebook investment announced on April 22, 2020

Source: Business Standard
In two weeks the enterprise valuation went up 12.5%. Can you make 8 Billion in valuation over 2 weeks? Over the next 18 2 months through many slow jumps like this one, Jio will generate enough cash to bail Reliance out of its debts. VCs are being given a Master Class, hopefully globally.
The dust on this will not be allowed to settle. With FOMO at play, by Friday, another USD 1.5 Billion found its way to the Reliance coffers from Vista Equity Partners! I am sure there will be more announcements in the coming weeks.
Also on that note - E-Commerce seems to be one of the great pillars that Facebook and Reliance seem to be chasing; the other being finance. Rumour has it that Reliance is looking to acquire Chennai based Netmeds. JioMart started taking Grocery orders over WhatsApp last week in Mumbai.
Walmart must be regretting having listened to Masayoshi Son.
From Mobile to Mobility
For the first time since 1984, the Indian Automobile industry sold ZERO cars in the month of April. Not surprising at all. Adding insult to injury, there is a huge pileup of inventory that is adding to the cost for dealerships. But they should brace themselves for even worse. One of the biggest contributors to car sales was Uber and Ola. With many migrants choosing to go back home and 'work from home' becoming a new norm, the demand for cars may never recover to the same levels again.
The nationwide lockdown, which started on March 25, forced all car dealerships and manufacturing units across the country to stop operations. The halt is costing the industry Rs2,300 crore ($306 million) per day, according to an estimate by industry body Society of Indian Automobile Manufacturers (SIAM).

Source: Quartz
Technology
The Indian government launched Arogya Setu, its app for countrywide surveillance. Making it mandatory for Indians who are coming back from overseas. When the app was launched, the terms and conditions had a lot of leeway in terms of how the data could be used. It still remains a clusterfuck of privacy problems. Little surprise that hackers are now making their way in.
According to Baptiste, anyone with the right technical know-how can find out the Covid-19 status of a given area by exploiting a flaw that allows users to set a location within the Aarogya Setu application. Using the flaw, Alderson was able to find that five people each in the Prime Minister's Office (PMO) and defence ministry who had reported that they were feeling unwell today (May 06).

Source: Inc42
Self-Driving Cars
In a post-COVID world the fewer people you come across, the better. Cabs are one of those cases where you have to necessarily come across another person - the driver. Self-driving cars will get a huge boost in this scenario. Volvo, the company that brought to us the three-point seat belt and gave away the patent because they believed that safety was something everyone should have, is making strides.
That news is the result of a deal with Luminar, the eight-year-old lidar company helmed by 25-year-old Austin Russell. Instead of the sort of spinning gumdrop setup used by Waymo, Cruise, Argo, and others making self-driving cars for use in taxi or delivery fleets, Luminar's lidar is about the size of a VCR tape and fits sleekly into the car's roof, just above the windshield.

Source: Wired
They believe their cars will be able to drive on highways by 2022. Tesla has taken a different approach from Lidar and Elon Musk has often derided the technology. Much like his derision of Hydrogen Fuel Cell which is far more environment friendly than Lithium-Ion Batteries.
Misc
The Edison Motion Picture Patents Company had the rights to the Projector Technology in the early 1900s. As a result of this patent any movie maker who wished to shoot a film was required to show the movie to the Edison Company and get their clearance before they allowed for it be projected in the USA. The Edison Company believed that long movies would not be appreciated by the audience and forbade movies longer than 30 minutes. The Edison Company had become the censor board without being that. Rudolph Zukor created Paramount Pictures, others such as Wilhelm Fuchs, later known as William Fox and three brother Jack, Sam and Harry Warner decided to defy the Company.
Chased by lawsuits, Police and Edison company's hired thugs who were destroying their production sets on the East Coast, they decided to move as far away as possible from the Edison Company. They also needed a place from which they could escape across the border if they found out a Police raid was imminent. So they packed their bags and moved from New York to a dusty town near the Mexico border called Los Angeles. This is the reason the 'Theatre' is in New York while the movies are in LA.
This industry built over a century is at the precipice of irreversible change. The 'Trolls World Tour' was released by Universal Pictures directly online because of you know what. They grossed USD 95 Million. This sent the cats amongst the pigeons.
AMC Theatres—the largest movie theater chain in the world with 11,000 screens and an indispensable asset for Hollywood studios—promptly freaked out about Shell's boasting. In particular, it took issue with Shell's wording that Universal will release movies in "both formats" (theaters and at-home viewing) in the future. Normally, theaters are granted a roughly 75-day exclusive window to screen films before they're released digitally.

Source: Quartz
For small budget movies, going digital directly makes a lot of sense. As if the prove the point -
Instead of a theater release in May, or a digital rental period, Warner Brothers will release their new movie 'Scoob!' on iTunes for a $25 one-time purchase.

Source: AppleInsider
Signing off...