Discover more from Learning by Proxy with Vivek Srinivasan
For those who are curious about the things happening around the world. Living at the Intersection of Politics, Business, Technology and Economics.
China V India - Telecom - Social Networks | Learning By Proxy
Every Saturday, I publish this series called 'Learning by Proxy'. It is a capsule of some of the stuff that I found interesting over the week along with some context to it. I hope you enjoy it.
I was planning to follow-up on some of the topics that I had written the last time. But the geo-politics of it is so interesting, it almost turned into an essay in and of itself. I lost the politics section to it.
Follow Up
See below!
Politics
Chris Voss is a former CIA negotiator and the author of the book 'Never split the difference'. The premise of the book is - when you are negotiating for the life of a hostage you can't agree to split the difference. You have to get it the way you want it. One of the lessons therein - When negotiating, always give your adversary a way out. If you corner them - expect the unexpected. 
Some context first
China had started down the path of world dominance a few years ago. They decided to use the American (actually British) play of economic dependence = political dominance. They announced this thing called One Belt One Road, which was to be second coming for the Silk Route. They engaged over 130 countries and poured in hundreds of Billions to create infrastructure such as Road, Ports, Airports, etc. Every continent apart from North America was involved. India refused to be a part of it.
Now let us see the corner China has been painted into.
Hong Kong was an itch which has been hard to scratch for the last 3 years. In addition to that Trump and his trade wars had made life difficult. 
The Coronavirus put a new spin on things. Many of these countries that China has lent to are poor Asian and African nations and with Coronavirus ripping up their economies, they have requested loan waivers and renegotiation. 
As the coronavirus spread around the globe, Pakistan's foreign minister called his counterpart in Beijing last month with an urgent request: The country's economy was nose-diving, and the government needed to restructure billions of dollars of Chinese loans. […]

With each request, China's drive to become the developing world's biggest banker is backfiring. Over the last two decades, it unleashed a global lending spree, showering countries with hundreds of billions of dollars, in an effort to expand its influence and become a political and economic superpower. Borrowers put up ports, mines and other crown jewels as collateral.

Source: New York Times
Pakistan was supposed to keep India in check. They are now broke. The Middle-East is in a financial crisis of its own with oil prices at historic lows. This implies very limited options available to finance terrorism. Therefore, Trump is not going to give money away to Pakistan as liberally as Obama did. 
Further, not agreeing to the cries of the poorer countries will make it seem like it was an engineered Virus. The optics of it all are terrible! 
Trump called it the 'China Virus' and has been pressuring WHO to investigate them - WHO acquiesced. India supported the probe into China. China grudgingly agreed.
A pretty deep corner you see. Now for the push back.
China put an end to Hong Kong by passing a law that forever ends Hong Kong's democracy - at least the way we knew it. With Pakistan now being rendered incompetent, they had to take matters into their own hands. They started trouble in Ladakh and Sikkim. India pushed back. Both sides said they will protect their sovereignty. All good distraction. But then…
Chinese President Xi Jinping on Tuesday ordered the military to scale up the battle preparedness, visualising worst-case scenarios and asked them to resolutely defend the country's sovereignty.

Source: Economic Times
That escalated fast!
Then Trump tweeted offering to arbitrate between India and China. China changed course and figured this was one more thing they would want the American to stay out of.
On Wednesday tensions between the two nations seemed to de-escalate as China took an apparently conciliatory tone by saying that the situation at the border with India is "overall stable and controllable."

Source: India Today
While there is a change of tone, satellite pictures show artillery build up on the Chinese side of the border. The US in the meantime is preparing to pass a law rescinding Hong Kong's trade status.
Economics
Truth
It was a couple of editions ago that I had mentioned that the truth about the actual economic state of India will emerge post-COVID when nobody is paying attention. It is happening. 
Bank lending to MSME collapsed after 2016 as per RBI data. This during a time when the government claimed to have 7.2% GDP growth rate. Many of the MSMEs are critical suppliers to large industries how could they not want loans? If they saw an opportunity, they would have taken loans to grow. 
While large industries saw their credit expand by Rs 1.73 lakh crore, or at an annual growth rate of 1.9 per cent between April 2016 and March 2020, micro and small industries saw their credit expand by only Rs 10,335 crore, or at a 4-yr CAGR of 0.69 per cent during that period.[…]

The decline in demand for credit by the industry, however, coincides with the decline in the demand in the economy and falling capacity utilisations. The RBI's Order Books, Inventories and Capacity Utilisation Survey (OBICUS) for the October-December 2019 quarter shows that the capacity utilisation declined to at least 12-year low of 68.6 in the quarter ended December 2019.

Source: Indian Express
Repo Rate
The interest rate is an instrument that is used to stimulate the economy when the times are good, expectations form the future are clear and risk can be estimated. When none of this is clear - the Interest rate becomes merely a number. If you play with it unnecessarily, you diminish your power. Modi placed a historian at the head of the RBI to act as his puppet and the bankers are giving him a lesson. RBI dropper repo rate (the rate at which banks borrow) once again to 4%. An all-time low.
"When a heightened level of risk aversion exists among banks, lower cost of capital alone incrementally will not translate into higher lending in the current situation," said Sreejith Balasubramanian, an economist at Mumbai-based mutual fund IDFC AMC. "Banks make lending decisions based on their risk appraisal and appetite which is currently low."

Source: Quartz
Business
Sizzling Telecom
In a world that is locked inside their homes, connectivity is a very valuable resource. It is the only thing that preserves a certain degree of sanity and allows for commerce in whatever form to thrive. Connectivity is unlocking its value.
A couple of editions ago, I had mentioned how Reliance has used Jio to free itself of debt. Also last time I had shared the surprise upswing that Airtel had registered. Airtel is now borrowing a trick or two from the Reliance Playbook. They have raised over a Billion dollar through a stake sale and reduced their debt burden. 
Bharti Airtel's promoter firm Bharti Telecom raised Rs 8,433 crore on Tuesday, selling 2.75% stake in the telecom major to institutional investors through an accelerated book-building process in the secondary market. With this, the Sunil Bharti Mittal led-Bharti Airtel's promoters are ostensibly looking to go 'debt-free', a path similar to the one chosen by Reliance Industries' Mukesh Ambani. Bharti Airtel share price traded flat on the BSE on Wednesday. After the sale, the promoter group will continue to own 56.23% in the company.

Source: Financial Express
Also, rumours are that Google is planning to buy into Idea-Vodafone.
Not to be upstaged - Jio Platforms as it continues to raise its Billions announced Microsoft as one of the suitors willing to throw in USD 2 Billion. And they also announced their wishes to list on an international stock exchange. 
Post bagging multi-billion dollar deals from marquee investors in the last one month, Billionaire Mukesh Ambani's Reliance Industries is said to be now considering an overseas listing of Jio Platforms, according to people aware of the development.

Source: Mint
Technology
Social media is an echo chamber and that echo chamber has resulted in far too many countries in the world having right-wing governments. India included. Life is good so long as you are on the right side of the line - White in the US - Hindu in India and so on. Facebook knew what it was doing and why it was wrong. An explosive and incriminating report exposes the upper echelons of the company brushing aside genuine concerns. 
"Our algorithms exploit the human brain's attraction to divisiveness," read a slide from a 2018 presentation. "If left unchecked," it warned, Facebook would feed users "more and more divisive content in an effort to gain user attention & increase time on the platform." […]

But in the end, Facebook's interest was fleeting. Mr Zuckerberg and other senior executives largely shelved the basic research, according to previously unreported internal documents and people familiar with the effort, and weakened or blocked efforts to apply its conclusions to Facebook products.

Source: WSJ
The person who made this presentation was the head of the 'Integrity Team' at Facebook. The company has none of it.
Twitter has been a haven for trolls permitting harassment at an unprecedented level. It came as a huge surprise when Twitter which is in part responsible for Donald Trump being president decided to flag this tweet at false.
[click on the tweet and open it to see the flag]
The move, which escalates tensions between Washington and Silicon Valley in an election year, was made in response to two Trump tweets over the past 24 hours. The tweets falsely claimed that mail-in ballots are fraudulent. Twitter's label says, "Get the facts about mail-in ballots," and redirects users to news articles about Trump's unsubstantiated claim.

Source: Washington Post
The president threw a fit on Twitter about Twitter. Then announced on Twitter that he would be releasing an Executive Order against Twitter. 
In the meantime, Kellyanne Conway his "Counselor" went on a rant against - guess who? - the head of the Integrity Team of Twitter; Yoel Roth. He has been subjected to a lot of trolling by Republicans and Trump supporters - where else - on Twitter.
Here is a list of all the false claims made by the President of USA to date - all 18,000 of them. - https://www.washingtonpost.com/graphics/politics/trump-claims-database/
And Twitter is not backing down!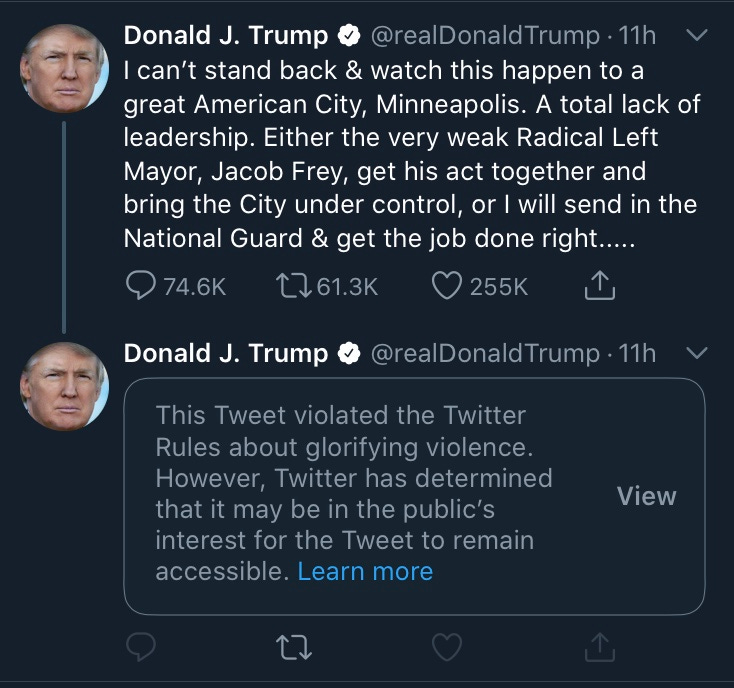 Misc
The Indian Government is using drones to chase away locusts.
These are designed to spray 10-litre of chemicals, along with creating a sound that would disperse the locusts into different areas. "It has successfully contained the movement of locusts in an open area and on the foothills where it was not possible for the usual tractors to make it reach. A detailed assessment of its impact is being studied by the field officers," said Om Prakash, commissioner, state agriculture department.

Source: Times of India
The Democrats are using the Republican playbook - GOD. Only God can save them now. God is peddling conspiracy theories on Trump!
Go on check out the twitter handle. It's got a lot more there. About Ivanka's Shoplifting and much more…
Signing off…