Discover more from Learning by Proxy with Vivek Srinivasan
For those who are curious about the things happening around the world. Living at the Intersection of Politics, Business, Technology and Economics.
Building for Change
The world is evolving and so do the business models need to
One of the themes that everyone is required to contend with today is change. Change is inevitable and necessary in these times. Radical changes are being forced upon us and the world is adapting rather quickly to these changes. 
Humans hate change!
Change in itself is not something that we take to, naturally. Humans tend to push back to change. It is our natural reaction to it. 
Having said that, we have been subjected to rapid changes. The second world war was the starting point.
Aviation, automobiles, television, food processing and several others. There have been consistent changed hurled at us and we have changed ourselves to adjust to those changes. Each of these has changed our lives in meaningful and irreversible ways. These are important and critical to our comfort and our productivity. Also, they have spawned several new businesses that would not have been possible before their introduction.
Think about it, 10 years ago you could not have imagined pulling out a slab of glass from your pocket and summoning a cab. Today you cannot imagine a world without it.
Over the years, there are several changes that the world has seen. Over the past 3 decades, the world has been in a paradigm of accelerated change. The only difference with the current situation is that this change is being thrust upon us rather than chosen by us.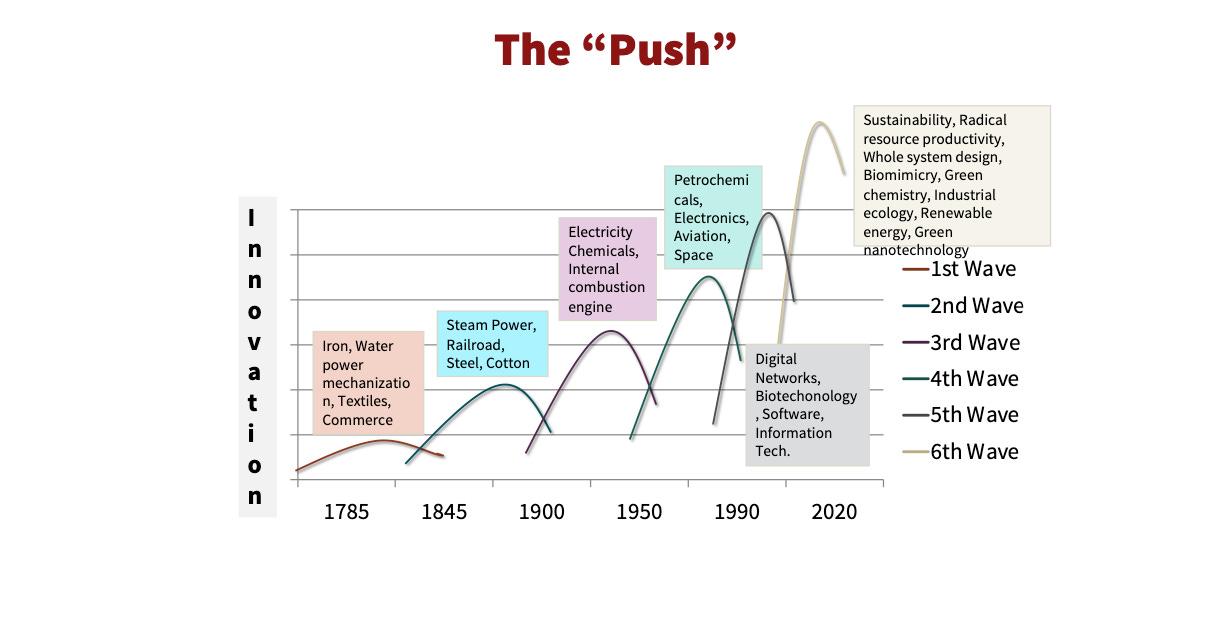 Startups are created and thrive at the cutting edge of change. If you look at the graph above, each jump was accompanied by pioneering companies that took advantage of that change. The last time such a change was brought upon us was when the smartphone was unleashed. Back in 2007, the world was a much different place. Since then, smartphones have not spared any business. From retail to transportation; from supply chain to finance; everyone had to bow to the power of the smartphone and the cloud.
The wave swept the world in a matter of 7 years and everything changed forever. So much so that the next world war will not be fought on a battlefield but the internet.
The current pandemic is unprecedented in our lifetimes. Also, it is taking place at a time when we have the ability and the technology to make changes at unforeseen speed. This is the time to get on the next curve.
Smartphones reached maturity (~80% market penetration) in a matter of 7 years. The revolution that this situation is going to unleash will reach maturity in a matter of 3 or 4 years. There will be winners who will emerge from this and their fortunes will turn in a very short period. 
To illustrate this - Temple Run was a company founded by a couple who operated out of their bedroom. The game was launched in 2011. In 2014, the company had over a Billion downloads and generating Millions in revenue. Not bad for 3 people. There was never a game, before 2011 or thereafter that has been this successful in such a short time and with so little resources.
The current situation can give birth to equivalent businesses in certain industries ripe for change. Any thoughts on what those changes are going to be? Most would say video-conferencing. But no.
The industries that are currently at the throes for radical change and whose future no-one knows are Real Estate, Travel and Tourism, Automobile, Education and Healthcare, amongst others. Each industry is broken in their unique way. The pandemic has broken them. They are going to be altered radically by the changes that this pandemic is unleashing. 
Instead of going ahead and building on business models which existed 5 years ago; the questions entrepreneurs should be asking is which business models would be thriving in 5 years? Where will this settle?